Henry Xtra review
The Henry Xtra – otherwise known as the Henry Extra Hoover – is Numatic's attempt at an upgrade on the hugely popular Henry Hoover. If you're looking for a powerful cylinder vacuum cleaner, then you know with Numatic that you'll be getting a machine that is reliable. But is there much difference between Henry and Henry Xtra?
The quick answer is yes, there are some key additional features that help the Xtra stand out as an attractive option from the Henry Hoover range. However, those additions do come at a price. At around £50 more expensive than the traditional Henry vacuum cleaner, this Henry Xtra review should help you decide if the Xtra is really worth the extra cost.
Two additional floor heads, including the AiroBrush
Large dust bag capacity with strong Hepa Flo bags

Range of cleaning tools and attachment

Good vacuum if you have pets
Heavier than other vacuums on the market
Better vacuums available for cleaning stairs
Henry Xtra specifications
| | |
| --- | --- |
| Colour | Red / Black |
| Weight | 8 Kg |
| Capacity | 9 litres |
| Power | 620 watts |
| Energy Efficiency Class | A to G |
Other Henry range reviews you may find useful:

Difference between Henry and Henry Xtra
Whilst the Henry Xtra and the Henry Hoover share many similarities, if you look at Henry vs Henry Xtra there are some key differences which explains why there is a difference in price. The Henry Xtra comes with two additional heads – the AiroBrush and a designated hard floor brush.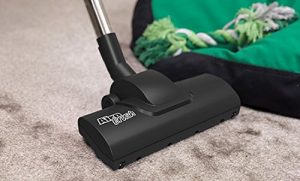 The AiroBrush is a specialist floor tool that is great for tackling pet hairs and removing tough dirt and dust when carpet cleaning. If you or anyone in the family suffers from allergies, this is the brush that will help you remove as much dust and debris from your home. This unique floor head also comes with the Harry Hoover, and Henry Pet Hoover, Numatic's specialist pet vacuum cleaners from the Henry Hoover range. So if pet hairs or stubborn hairs are clogging up your carpets, the AiroBrush is a good weapon to have in your arsenal.
In addition to the AiroBrush, the Xtra comes with a separate hard floor brush that you've guessed it, is great for cleaning those harder surfaces. This means that you have additional, specialist floor heads for cleaning both carpets and hard floors when you opt for the Henry Xtra.
There's a few other notable differences between Henry and Henry Xtra, though it depends on which Henry Hoover model you're looking at. Henry Xtra and the Henry Hoover 200-11 model both have a 9 litre capacity and weigh 8kg, but the Henry Xtra is slightly more powerful. It operates at 620 watts compared to the 580 watts of the Henry 200-11. The Henry 160-11 model is a different story, it has the same 620 watt power as the Henry Xtra, but a much smaller capacity at 6 litres compared to the Xtra's 9. It also weighs slightly less at 7.5kg, 0.5kg lighter than the Henry Xtra.
At 8kg, there are certainly lighter vacuums on the market than the Henry Xtra. Similar to the Henry, the Xtra is a fairly bulky hoover which makes stair cleaning harder than it could be.
Henry Xtra tools and accessories
In addition to the AiroBrush and hard floor brush, the Henry Xtra comes with a bunch of tools and add-ons that will help you to find a solution for almost every cleaning job you can think of.
Like the standard Henry Hoover, the Xtra comes with two extension nozzles, an upholstery nozzle, and the standard combination tool. This cylinder vacuum cleaner also comes with a stainless steel tube set which is included for durability and ultimately, more reliable and uninterrupted cleaning in the future. The steel tubes are a tight fit and don't slip off so there's no need for suction clips.
Other accessories include a thin crevice tool which is useful for removing dirt from tight spaces, as well as a range of smaller dusting brushes. There's also a handy tool adapter, which makes it possible for accessories to be connected directly to the vacuum hose rather than on to the curved tube bend.
Henry Xtra bags and filter
The Numatic Henry Xtra comes with an enhanced TriTex filtration system which does a great job of getting rid of dust particles. However, it doesn't remove other types of allergens so if you need a filter that can, the Xtra wouldn't be the most suitable choice. What this filter is excellent at sucking up dust particles and preventing them from being pushed back into the air. It's also nice and easy to access, so it's easy to spot when it needs to be cleaned.
In terms of dust bags, the Henry Xtra has a large 9L capacity which means he shouldn't need to be emptied very often. Like all Numatic vacuum cleaners, the Xtra comes with four dust bags which should last you several months. Rather than re-use the dust bags it's advisable to use replacements, and these can be sourced very cheaply from the likes of Amazon. When a bag is full and needs to be emptied, it's nice and easy to do. Simply unclip the top, lift out the filter and remove the dust bag, before replacing with a new one.
The bags themselves are the new HepaFlo bags, which are really strong and not made from paper like the older-style bags. They are a lot more secure which helps to ensure that dirt and debris does not escape, much like the filter.
Henry Xtra appearance and design
Outside of the additional floor heads and attachments, the Numatic Henry Xtra is quite similar to the traditional Henry Hoover. Like Henry, the Xtra is red and black and has a smiling face that is synonymous with vacuums from the Numatic range.
The Xtra has a 10m long cable complete with a rewind function, which can be stored neatly after use and ensures the cable doesn't get in the way. In addition to the cable is a 2.4m long conical hose, which further increases the cleaning radius and thus the overall usability. The flexibility makes it easy to reach awkward places without much effort, meaning you don't need to keep unplugging and relocating the machine as you move around the home. The fact that the hose is conical is a nice bonus, as it results in powerful suction thanks to improved airflow.
The Henry Xtra is supported by two castors and two fixed wheels, which aids maneuverability which is handy as he is a little on the heavy side.
In terms of noise, the Xtra is considerably quieter when compared to lots of cylinder vacuums on the market. His low wattage motor keeps his noise level down to 74.4 decibels, meaning you shouldn't have to shout over him when talking.
Henry Xtra pros
Two additional floor heads, including the AiroBrush
Large dust bag capacity with strong Hepa Flo bags

Range of cleaning tools and attachment

Good vacuum if you have pets
HenryXtra cons
Heavier than other vacuum cleaners
Better vacuums available for cleaning stairs
Henry Xtra verdict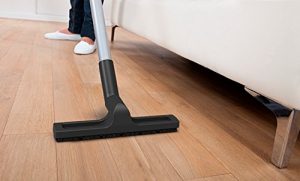 So is Henry Xtra better than Henry and is he worth the extra cash? If you have pets in your home, then the answer is probably yes. The additional AiroBrush floor tool is worth its weight in gold and will do a better job at picking up those pesky pet hairs than Henry the Hoover. If you don't have pets, you're not gaining a whole lot more with the Xtra. It does also come with an additional hard floor head, but other than that it's not much different to the Henry.
The Henry Xtra is still a great cylinder vacuum cleaner in its own right, but in our opinion if you're choosing between the Xtra and Henry it's only really worth the additional cost if you have pets that leave stubborn pet hair around the home.
The main negative with the Xtra is that it's fairly heavy and not the best vacuum for cleaning stairs, but it does have many positives. These include a large dust bag capacity, powerful suction on both hard floors and carpets, a compact design and a range of performance enhancing attachments which help to provide a thorough clean.
The latest model is the Henry Xtra HVX200-11, and whilst there's not much difference between models, it's important to check which one you're getting to avoid disappointment.