Dyson Ball Animal 2 review
People that have pets in their home will know how much of a nightmare it can be to keep rooms clean and free of pet hair. A reliable and efficient vacuum cleaner is key to removing stubborn pet hair, and there's a number on the market that have been designed with pets in mind. The Dyson Ball Animal 2 – otherwise known as the Dyson Ball 2 – is one of those pet-friendly vacuum cleaners, an upright corded vacuum cleaner that promises powerful suction across both carpets and hard floors.
But is the Dyson Ball Animal 2 a good option if you're in the market for a new pet vacuum cleaner? Read on for our in-depth Dyson Ball Animal 2 review where we'll go into more detail about the features of this vacuum cleaner, to help you decide if this could be the new vacuum for you. You can also see how the Ball 2 stacks up to other Dyson's in our best Dyson vacuums guide.
Dyson Ball Animal 2 specifications
Dyson Ball Animal 2: Power
According to Dyson, no other upright vacuum cleans better across carpets and hard floors than the Ball Animal 2. Made specially for homes with pets and with deep cleaning in mind, the Dyson Ball Animal 2 utilises its Epicyclic Drive technology for a super-strong pickup, which is what you need when tackling stubborn pet hair. The Epicyclic gearbox has three planetary gears that rotate around a central drive, producing high reduction that gives the user increased power. 
The Dyson Ball Animal 2 also utilises its advanced Radial Root Cyclone technology to make its clean even stronger. 12 compact cyclones generate powerful centrifugal forces to give you maximum suction, flinging microscopic dust and allergens out of the air and into the vacuum's dust bin. This allows you to always keep you home clean and fresh, perfect if you share your home with a furry friend, especially if they don't always smell the best.
Power is the name of the game with the Dyson Ball 2 and it comes with an additional carbon fibre cleaner head, which has nylon bristles to get stuck into carpets and anti-static carbon filaments to remove fine dust from hard floors. There's a direct-drive motor that sits in the carbon fibre brush bar, helping the user to drive the bristles deep into the cleaning surface.
The Dyson Ball Animal 2's powerful 90aw suction is able to remove microscopic dust, dander, embedded pet hair and stubborn dirt with ease making it ideal for pet owners.
As well as being very powerful, the Dyson Ball Animal 2 has a glass-reinforced polypropylene ball that protects over 100 key components. This is able to envelope the motor to enhance sound insulation, meaning it is not only efficient but very quiet too. This will hopefully help to keep both your pets and the neighbours happy.
Dyson Ball Animal 2: Weight and design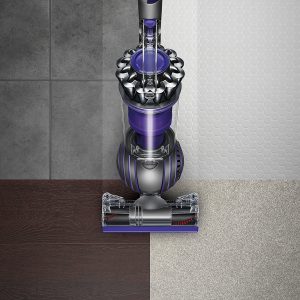 Whilst there's no doubt the Dyson Ball Animal 2 is an ultra powerful vacuum cleaner that's great at picking up pet hair, one negative is it is a little on the heavy side. Weighing in at 7.34kg, it's certainly heavier than most cordless vacuum cleaners and also quite heavy for a corded machine. However, moving the Ball 2 around is made easy thanks to Dyson's re-engineered Ball technology – which you'll also find in the Dyson Big Ball Multi Floor 2 – where the vacuum rides on a ball and is easy to steer smoothly around the home with just a quick movement of the wrist.
And whilst this is a corded vacuum which means you will have to unplug it and move it around from time-to-time, there's a huge 10.81m power cord which provides excellent reach. This should allow you to use one power socket when cleaning an average side home, without having to stop and keep changing power sockets in every room. Of course you'll likely need to switch sockets if going upstairs, but the reach on Ball Animal 2 should mean that's the only time you need to unplug it.
A very neat feature is the articulated wand handle that gives you extended reach and flexibility. This lightweight handle moves in three directions and tilts, pivots and rotates 360 degrees for easy cleaning in the hardest to reach areas. This gives you greater control and less effort while cleaning all over your home. It's perfect for carpets, hard floors, laminate, tiled floors, stairs and upholstery. In fact it performs well on any surface and in tight spaces and crevices. With this tool you can reach up high or clean awkward areas such as underneath low furniture.
Dyson Ball Animal 2: Bin and capacity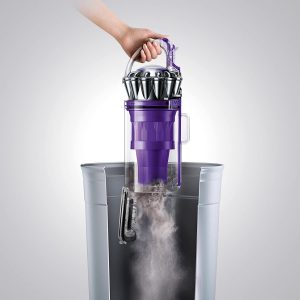 The Dyson Ball Animal 2 is a bagless vacuum cleaner which in itself is a bonus, as you don't need to worry about replacement bags. The large 1.8l capacity is a marked improvement on the Dyson Small Ball Allergy's 1.2l capacity, offering an extra third in terms of bin space. This larger bin capacity should allow you to confidently clean your home without having to stop and empty the bin too often. When it does come to emptying the bin, the dirt is hygienically ejected at the touch of a button, so there's no need to worry about getting your hands dirty.
As well as being powerful and great at picking up pet hair, the Dyson Ball Animal 2 is a good option for pet owners as it's able to capture dust, pet hair and allergens extremely well. The efficient whole machine filtration and lifetime washable filter is also easy to remove and clean. This makes the Dyson Ball Animal 2 perfect if you suffer from allergies.
Dyson Ball Animal 2: Accessories
The Dyson Ball Animal 2 comes with a number of extra tools to help you keep your home thoroughly clean. Thanks to quick-release functionality, it's easy to switch between tools at the touch of a button depending on the job at hand.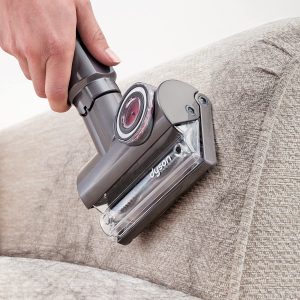 Firstly, the stair tool is particularly useful for – you've guessed it – stair cleaning. This handy tool uses velour strips to pick up hair and dirt from stairs, where a normal vacuum head might struggle. Next, there's a combination tool that offers two tools in one, a brush and wide nozzle. This allows you to simply switch between cleaning tasks with ease.
There's the carbon fibre brush head we mentioned earlier, which uses stiff bristles and carbon fibre filaments to pick up the worst ground in dirt and dust from upholstery such as sofas and car interior. Finally, and perhaps most importantly, there is a quick-release tangle-free turbine tool which is great if you have pets. This turbine tool doesn't tangle and allows you to remove embedded pet hair from carpets quickly and easily, saving time if you want to rid your home of unwanted pet fuzz.
Three of the four additional tools can be stored on the main body of the Ball Animal 2, with handy silver plastic clips locking them in place. However, it's worth noting that the only tool that can't be stored on the vacuum is the tangle-free turbine head, which is too big to store on the vacuum. As the Dyson Ball Animal 2 is an upright model, it's easy to tuck away and store out of sight when it's not in use. There are also hooks provided for keeping the 10.8m power cord neatly stored away.
Dyson Ball Animal 2: Pros
Ultra-powerful vacuum cleaner that is great at picking up pet hair on both carpets and hard floors
Impressive reach thanks to a long cord and articulated wand handle
Bagless bin with large capacity
Ball technology makes it easy to move around
Range of additional cleaning tools 
Great for people with allergies thanks to advanced filtration

Dyson Ball Animal 2: Cons

Corded vacuum so it will need to be plugged in to use
Heavy at 7.34kg, although the ball technology does cater for this
Costs more than the likes of the Dyson Small Ball Allergy which offers a similar performance for cleaning pet hair
Dyson Ball Animal 2: Verdict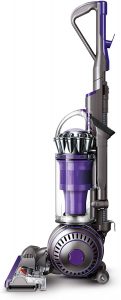 The Dyson Ball Animal 2 looks to be a solid option if you're considering a new corded upright vacuum cleaner and you have pets in your home. The power of this vacuum alone makes it a good option for pet owners, as it has no trouble picking up pet hair on both hard floors and carpets.
If you prefer a cordless vacuum then the Ball 2 isn't for you, as it's a corded machine that does need to be plugged in. However, it has impressive reach thanks to a long power cord and articulated wand handle which means you shouldn't need to change sockets very often.
It's fair to say the Dyson Animal 2 is not light, so it wouldn't suit people who may struggle to move around a fairly heavy vacuum. However, the clever ball technology makes moving this vacuum around fairly easy, despite its weight.
With a large capacity and no bags required, the bin on this vacuum ticks a lot of boxes. Plus it's great for allergy sufferers thanks to advanced filtration.
There's a lot to like about this vacuum, and it does look to be an upgrade on the comparable Dyson Small Ball Allergy. It does cost more though, so there are cheaper alternatives available.
We hope that this Dyson Ball Animal 2 review has helped you to decide if the Ball 2 is worth investing in. If you need a new pet vacuum, we don't think it will disappoint.