The Henry Hoover Range – Which is the best Henry Hoover in 2020?
Most people will have heard of Henry the Hoover, the smiling vacuum cleaner that has now been cleaning UK households and workplaces for close to forty years. But did you know that there is a whole Henry Hoover family?
British manufacturer Numatic International has expanded the Henry Hoover range over the years to provide their first vacuum cleaner with some much needed company. After Henry's introduction in 1981, it was Hetty – also known as the female Henry – who came next. And since then there's been a number of additions to the family; namely James, Harry, George and Charles, the latter two which are wet and dry vacuums. On top of that there's been iterations of the traditional first cleaning machine itself, which includes the popular Henry Xtra.
Some of the vacuum cleaners within the range are very similar, but others do have some key differences. Below we provide further detail about the types of Henry Hoover, so you can identify the key differences and understand which is the best Henry Hoover for your needs.
Compare the Henry Range
Henry Hoover
The head of the family, Henry is certainly the most well known cleaner from the range. First introduced in 1981, Henry's smiling face has been helping people to clean their homes ever since. Traditionalists will tell you this is the best Henry you can get, and if you're looking for a reliable and affordable vacuum it's hard to argue with this view.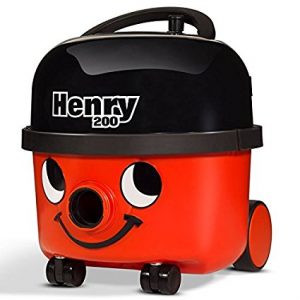 Key features
– 620 Watt Motor
– 9 Litre Capacity
– 8 Kg Weight
– Energy Rating A
Probably best known for this appearance – something which has helped to make this vacuum cleaner something of a celebrity and household name – it shouldn't be forgotten that he is also a very capable vacuum. Whilst the look and feel has remained pretty similar over the years, a number of tweaks have been made to improve his performance, ensuring that this vacuum continues to be the go to choice for many homes and workplaces.
Despite a significant reduction in suction power, improvements in efficiency means he remains a powerful and reliable vacuum cleaner, suitable for cleaning all types of services. Henry has also been built to be long-lasting, meaning he should last in your home for years to come. With a number of useful accessories included in the box, no cleaning job should be too hard. Henry weighs in at 8kg, so whilst not light, he can be moved around your home fairly easily.
You can't really go wrong with the Henry. As an affordable vacuum cleaner we don't think you'll be disappointed. For a more detailed look, check out our Henry Hoover review.
Hetty Hoover
The female equivalent to Henry or also known as the female Henry Hoover, Hetty Hoover is another popular vacuum cleaner from the Henry family. A common question we see is what's the difference between Hetty and Henry? The answer is not much at all. Apart from her appearance, Hetty is exactly the same vacuum. The only real difference is that Hetty is pink compared to the traditional red. She also comes complete with eyelashes to add to her more feminine appearance.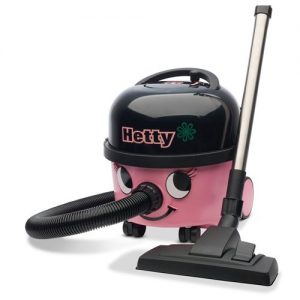 Key features
– 620 Watt Motor
– 9 Litre Capacity
– 8 Kg Weight
– Energy Rating A
Hetty smiles just as much as Henry, and in terms of performance is just as able. Hetty has a highly efficient motor, a 10 metre cable and rewind storage system, and comes with a host of useful accessories.
Numatic has more recently introduced another version of the female Henry, that comes with a smaller six litre bag capacity. Both versions come highly recommended but we suggest you check which size you're getting to avoid being disappointed.
So if you're after a very capable hoover that comes complete with a feminine appearance, Hetty the Hoover should be perfect for you. For a more detailed look, check out our Hetty Hoover review.
James Hoover
The frugal member of the family, James Hoover is a slightly smaller vacuum cleaner and comes with a couple of other alterations.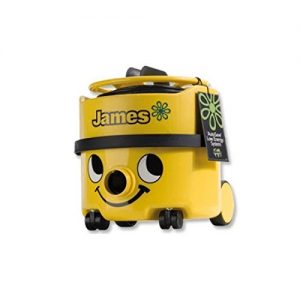 Key features
– 620 Watt Motor
– 8 Litre Capacity
– 8 Kg Weight
– Energy Rating A
Yellow in colour, James has a slightly smaller bag capacity – eight litres rather than nine – than that of Henry, his more famous family member. But in terms of performance there is no noticeable difference with the same motor size as Henry and Hetty; it's once again a very capable machine built by Numatic International.
Another factor that allows James to be smaller is the cable tidy that can be found on the top of his head, which means you can manually wind the cable by hand. Where James stands out over the rest of the Henry Hoover range is the unique caddy tray that can also be found on the top of his head, providing a great storage place for his attachments that includes the crevice tool and the upholstery brush.
If you want a slightly smaller Numatic vacuum that still packs the same punch as its larger compatriots, than James Hoover could well be the one for you. For more on James, see our full James Hoover review.
Harry Hoover
If you have pets in your home or workplace, than Harry Hoover is likely to be the best suited vacuum cleaner from the Numatic range for you. Despite being very similar to Henry in terms of performance, where Harry really comes into his own is the additional changes that have made to help him specifically tackle stubborn pet hair.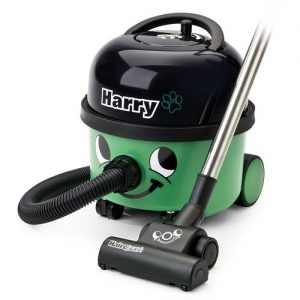 Key features
– 580 Watt Motor
– 9 Litre Capacity
– 9 Kg Weight
– Energy Rating A
Green in colour, Harry comes with an additional Hairo brush which is perfect for picking up pet hair from both floors and upholstery. He also comes with a special Micro Fresh filter which helps to minimise odour that pets can create.
Despite having the same bag capacity, Harry weighs slightly heavier than Henry and comes with a less powerful motor. But his general performance is still very good, and the added bonus of his performance with pet hair really helps him to stand out. For a more detailed look at Harry, check out our Harry Hoover review.
George Hoover
George is the ultimate all-in-one vacuum, more than capable with both dry and wet vacuuming. Like the rest of the Numatic International range, George is great at cleaning dry floors and picking up all sorts of dirt. But what really helps George to stand out is his ability with wet floors. Great at sucking up spills or just cleaning wet floors in general, George is also adept as a deep cleaner for all types of surfaces, including carpets and upholstery. Want to give your carpets a real clean with special shampoo? No problem if you're using George.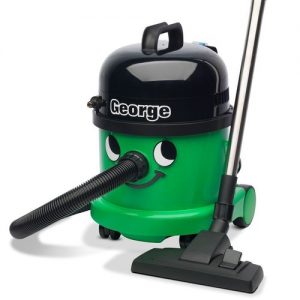 Key features
– 1,200 Watt Motor
– 15 Litre Dry Capacity
– 9 Litre Wet Capacity
– 9 Kg Weight
– Energy Rating A
George is also much more powerful than the standard Henry vacuum, in fact along with Charles he's the most powerful machine in the range. With strong suction power, he's great at picking up stubborn dirt that a less powerful vacuum might struggle with. With a huge 15L bag capacity for dry cleaning, and a more than adequate 9L capacity for wet cleaning, George also has plenty of room so you don't need to be emptying him too regularly. He is slightly heavier than most of his family, but it's worth it for the extra capacity and more powerful motor.
So if you're looking for a wet and dry vacuum vacuum that's great at cleaning both surfaces, we really think George is your man. Read our in-depth George Hoover review.
Charles Hoover
George's younger brother, Charles is another all-in-one vacuum that can tackle both dry and wet surfaces with ease. With the same powerful motor as George and the same dry and wet bag capacity, other than his blue appearance the differences between George and Charles aren't obvious.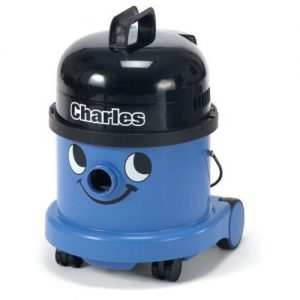 Key features
– 1,200 Watt Motor
– 15 Litre Dry Capacity
– 9 Litre Wet Capacity
– 8 Kg Weight
– Energy Rating A
However, Charles is ever so slightly lighter than George and doesn't come with as many accessories as his older brother. The main thing missing with Charles when compared to George is the extra carpet / upholstery cleaner. If this is something you require, then you'd be better off going for George, but if it's something you don't feel you need, then Charles is the man for you as he's generally cheaper than George.
If you to decide Charles is the wet and dry vacuum for you, you'll be getting a great all-in-one vacuum cleaner with plenty of bag capacity. The fact he's also a bit lighter than George means he's easier to manoeuvre and carry around.
Read our in-depth Charles Hoover review.
Henry Xtra Hoover
The Xtra (sometimes known as Henry Extra Hoover) is an enhanced version of the original Henry. You may be wondering that's the difference between Henry and Henry Xtra? The Xtra takes all the fantastic features from the original machine and adds some added extras on top. Without doubt the stand-out Xtra is the unique Airobrush, which is great with pet hair and also helps to provide a pristine clean on soft surfaces like carpets. However, just like Henry, the Xtra is also more than capable on hard floors too, with the hard floor brush great at tackling all types of hard surfaces including laminate and wood flooring.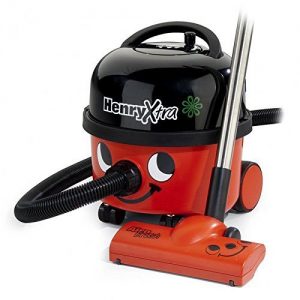 Key features
– 580 Watt Motor
– 9 Litre Capacity
– 8.5 Kg Weight
– Energy Rating A
Xtra is slightly heavier than the original Henry despite being slightly less powerful, but the added accessories do make it an attractive vacuum, especially for those with pets and hard and soft flooring. It is slightly more expensive than the original, but if you want an upgrade on your Henry then it may well be the ideal vacuum for you. Read our comprehensive Henry Xtra review.
Henry Hoover Range accessories
There are a range of Numatic Henry accessories that you can purchase as either add-ons or replacements. Whilst the vacuum cleaners from Numatic International are durable and long-lasting, you are likely to require replacement dust bags after a period of use and may also benefit from some of the many accessories that can help your vacuum to perform that little bit better.
Henry Range replacement bags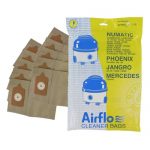 Despite having large capacities and strong, durable dust bags, there will come a time when you will need to replace the dust bags within your hoover to ensure they don't start leaking dirt into the vacuum drum. These Henry dust bags come in a set of 10 and are compatible with all Numatic vacuum cleaners. You can also purchase these HEPA Flo bags which are great at dealing with smoke, pollen and pet debris which can lead to allergies if not prevented. These bags trap air particles inside the drum, meaning they can't escape and spread around your home.
Henry Hoover Range replaceable filter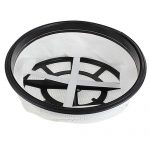 Although the built-in filter in Numatic vacuum cleaners are built to last, after repeated use their may come a time when you need a replacement. Purchasing a replacement filter can help to keep your vacuum working efficiently, and save you the cost of buying a replacement hoover. This replacement filter is perfect for Henry and George vacuum cleaners.
Henry vacuum replacement brush tools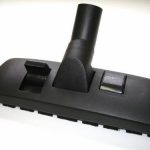 There are a number of additional brush tools you can purchase to help your Henry vacuum clean more efficiently. Whether you want a replacement brush tool or just want to get an accessory, there's plenty of useful brush tools available. The stand-alone carpet brush tool is a retractable feature that is best suited to cleaning carpets, but it's also pretty handy on hard floors too. Another useful brush tool that you can buy is the Airobrush tool, which is a strong performer thanks to its roller brush action which is operated by the suction of the air from the vacuum. This Airobrush is compatible with all vacuums from the range. There's also the Henry hard floor brush and the Henry soft dusting brush, which are useful attachments based on the type of surfaces you tend to clean.
Summary – which is the best Henry Hoover from the Henry Hoover range?
It's difficult to say which is the best vacuum from the Henry Hoover range as it all comes down to what you require. The standard Henry and Hetty vacuums are great little hoovers that will get almost any vacuum job done with little fuss. The Xtra could be considered a slight upgrade, but you've also got Harry and James which have some small alterations to the traditional hoover. If you need an all-in-one vacuum, then George and Charles are the best suited. With such a large range it is tough to pick a favourite, but with all these hoovers coming from Numatic you'll be getting a fantastic vacuum which ever you decide to go with.
If a Henry vacuum doesn't float your boat, then try best Vax hoovers or best Dyson vacuums for more inspiration.