Henry Hoover review
Famous for his red colour and smiling face, the Henry Hoover has been a mainstay in UK households and workplaces ever since it first arrived back in 1981, nearly 40 years ago. Produced by British manufacturer Numatic, the Henry has become a hugely popular vacuum cleaner, and its popularity shows no signs of slowing down.
Henry is a bagged cylinder vacuum that comes complete with strong suction power and a large dust bag capacity, making him an ideal household vacuum. His iconic appearance helps him to stand out, but Henry also continues to deliver when it comes to cleaning performance.
So that he can continue to deliver as a vacuum, Henry has had a number of iterations over the years as Numatic have made tweaks to ensure he remains very good at what he does best. The latest model of Henry is the HVR160, which replaced the larger Henry HVR200. Both remain available for purchase from major retailers, but the Henry Hoover review below is based on the Henry HVR160 model.
Powerful and energy efficient suction
Large dust bag capacity with strong Hepa Flo bags
Long cord and hose
Range of cleaning tools and attachment
Fairly bulky and therefore not the easiest to move around or store
Better vacuums available for cleaning stairs
Henry Hoover Specifications
| | |
| --- | --- |
| Brand | Numatic |
| Colour | Red / Black |
| Weight | 8 Kg |
| Capacity | 9 litres |
| Power | 620 watts |
| Energy Efficiency Class | A |
If you'd like to know more about Henry's family, you can check out our post on the Henry Hoover range. Other Henry range reviews you may find useful:
Henry Hoover wattage
One of the most prominent changes in the Henry HVR 160 model is the large reduction in motor power when compared to the Henry HVR200. I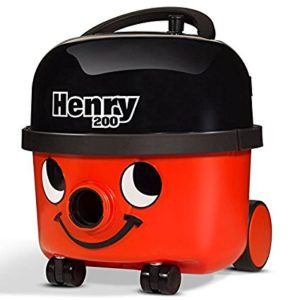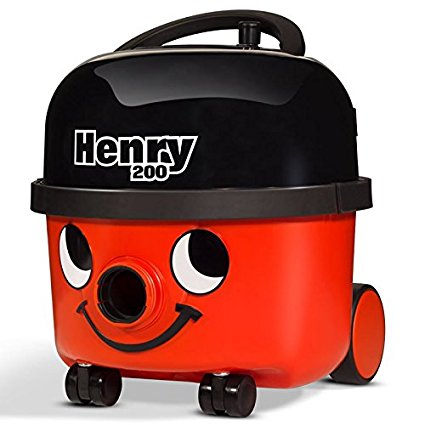 n September 2014 the EU imposed a limit on vacuum cleaners limiting the wattage to 1600W, and by 2017 that limit went down even further to 900W.
The Henry Hoover wattage at 1200W was already under the new limit but Numatic have made big changes and reduced the new Henry to 620W, nearly halving Henry's previous wattage.
However, don't let this put you off. Numerous changes have been made by Numatic to increase Henry's efficiency, meaning despite the reduced wattage it's just as powerful – if not more powerful – than previous versions. Henry also now makes a lot less noise with the low wattage motor much quieter than standard vacuums, and as an added bonus the new Henry will also use around half the electricity compared to older versions.
Previous versions of Henry such as the HVR200 came with two settings for suction power, operated by a high and low switch. The high option operated at 1200 watts and the low option at 600 watts. The Henry HVR160 does not come with the same setting, there is just the one vacuum mode which operates at 620 watts. However, the new motor is very efficient and therefore you shouldn't find the need for a higher suction setting.
Henry Hoover: HepaFlo dust bags and TriTrex filter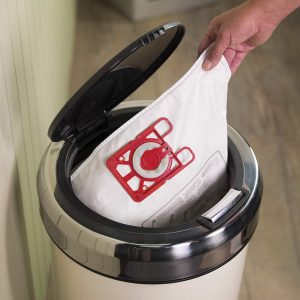 A new Henry vacuum will come with a fitted bag ready to be used and also come with spare bags, normally at least two. Henry HVR160 has an extra large 9 litre capacity, so although you need to use bags you won't need to change them very often.
The HVR160 model uses Numatic's newer HepaFlo bags, which have self-seal tabs which lock all the dust and debris within the bag itself. This stops the dust escaping out into the surrounding environment and helps to prevent allergies spreading around the home. The bags are extra large and super strong and on average need to be replaced only every four months or so. Replacement bags can be purchased cheaply from major retailers.
A common question that Numatic gets is can Henry Hoover be used without a bag? Numatic advise not to use the Henry Hoover without bags. Over time if you do use the Henry without bags, you risk damaging the motor which could lead to reduced performance.
Changing the dust bag themselves is not difficult. To access the dust bag you remove the two clips either side of Henry's motor unit, lift the motor unit off, and under the filter you'll find the large dust bag.
The Henry HVR160 also comes with improved filtration thanks to the introduction of the TriTrex filtration system.
Henry Hoover: Weight & design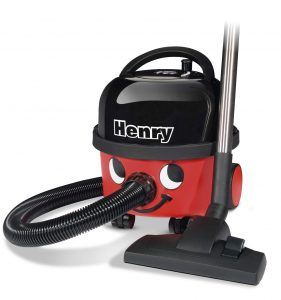 At 8kg Henry is not the lightest cylinder vacuum available on the market. This means his effectiveness at cleaning stairs is not as good as some other vacuums, and he isn't the easiest vacuum to move around the home. Henry though does come with a series of adaptors and nozzles that give you flexibility to reach surfaces some distance from Henry's frame.
A new advantage with the of the HVR160 model is the extra long 10m cable. The 10m Henry Hoover cable stores neatly inside the machine, allowing you to clean large areas without constantly switching plug sockets. 10m should allow you to clean the whole downstairs or upstairs of an average-sized home, so this a really nice improvement by Numatic. It also means you can leave Henry at the bottom of a flight of stairs when cleaning a staircase. When you're finished cleaning with Henry, there is a cable reel on top of the hoover which you need to wind around manually to store the cable in Henry. Henry also comes complete with a built-in carry handle which is ideal for when lifting Henry to your car or up the stairs, or even between rooms.
There is also a parking bracket on the side of Henry which can be slotted into place when pausing your vacuuming. You can also store one of the cleaning tools – recommended to choose the one you use the most – directly on your Henry allowing for quick access when switching to one of the other cleaning tools.
The Henry Hoover hose is very long at 2.4m. This is the one of the big changes Numatic have made to the new Henry to increase its efficiency. The hose is conical, meaning it's wider at the vacuum end than it is at the handle end. This helps to increase airflow and vastly increase performance, despite the newer Henry having significantly less wattage than its previous versions.
What attachments come with Henry Hoover?
As well as Henry himself there are a range of attachments that come in the Henry Hoover box. There are also a range of small cleaning tools, including:
A slim crevice tool for nooks and crannies

A soft dusting brush for shelving / delicate items

An all-purpose nozzle that has a slide-on brush
The nozzle is especially good for stairs and car seats. You also have the option of sliding the brush off if you want to do your upholstery which is a little more delicate.
In addition Henry comes complete with an adaptor which can be used to attach any of the cleaning tools to the end of the hose. This is ideal for when cleaning in a confined space such as a car.
Henry also comes with two extension tubes and a carpet and floor nozzle. The carpet and floor nozzle is one of the main changes with this new version of Henry. It's completely different to earlier versions of Henry and does feel like an improvement, allowing for an all-round better clean. Unlike the old Henry it doesn't have the metal base plate. It's a plastic base plate with litter pickers either side of the suction inlet which help deal with more clinging litter such as pet hairs. There is also a foot operated switch that lowers the brush all the way around for cleaning hard floors.
Can you use Henry Hoover on different floor types?
The Henry HVR160 can be used to clean both carpets and hard floors. Due to the design of the floor head and his powerful suction Henry is especially good at cleaning carpets. Henry will pick up dust and debris from carpets with no problems at all, and though there are better pet vacuums on the market he's not bad at picking up pet hair, either.
Check out our Harry Hoover review if you have pets in your home.
Henry is also more than adequate when cleaning hard floor surfaces such as laminate. His powerful suction means dirt and stains from hard floors can be tackled with ease.
Henry is also a great vacuum to use when cleaning your car. With a range of different tools for the job, Henry can be used to clean the dirt near the pedals, as well as picking up pet hair if your animals sometimes travel with you. With a long hose and 10m cable cleaning a car is not a problem for Henry.
Henry Hoover in different colours
Whilst the traditional Henry comes in red, you can get Henry in a variety of colours. If you want your Henry to be a different colour than his traditional red, here are some good options:
Henry Hoover Pros
Powerful and energy efficient suction
Large dust bag capacity with strong Hepa Flo bags
Long cord and hose
Range of cleaning tools and attachment
Henry Hoover Cons
Fairly bulky and therefore not the easiest to move around or store
Better vacuums available for cleaning stairs
Henry Hoover review: Verdict
Numatic have been making Henry Hoover's for decades and it really tells with the Henry HVR160 – you'll struggle to get a more reputable brand in the UK vacuum market. Whilst Henry's main cons are his weight and effectiveness at cleaning stairs, he has many positive features that out-weight the negatives.
Henry is a super cylinder vacuum and is a real bargain at his price point. The efficiency changes made by Numatic mean they've somehow made Henry even better with the HVR160 model, despite cutting his power by more than half. A large bag capacity and range of cleaning tools helps to make Henry a stand out in the market.
There's a reason that the Henry Hoover continues to be one of the most popular vacuum cleaners going, and it comes at great value when compared to other hoovers on the market. Hopefully this Henry Hoover review has helped to answer if Henry Hoover's are good and worth buying – we certainly think they are.