Charles Hoover review
Most vacuum cleaners from the Numatic range are designed to clean dry surfaces only, but Charles Hoover – along with this compatriot George Hoover – is made to tackle wet surfaces as well as dry.
An all-in-one vacuum with a powerful suction power and long reach, Charles wet and dry is your man for all surface types. As a Numatic vacuum cleaner you know you'll be getting a reliable machine, and the fact that he's easy to use and easy to go from wet to dry vacuuming makes Charles very appealing.
Whilst Charles has many similarities to George, there are also some key differences. Read on for our in-depth Charles Hoover review.
Charles Hoover specifications
Other Henry range reviews you may find useful:
Charles Hoover: Most similar to George but with some subtle differences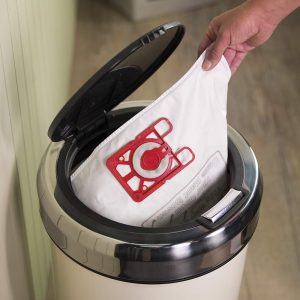 An all-in-one vacuum cleaner, Charles wet and dry is one of only two vacuums from the Henry Hoover range that has been built to clean on both dry and wet surfaces. George Hoover is the other all-in-one vacuum from Numatic, and the two vacuums share a number of similarities.
Charles and George are both strong vacuum cleaners, comfortably the most powerful hoovers from the Numatic range. At 1200 Watts, they both have great suction power, which comes in handy when cleaning in wet mode.
They also have the same size capacity, with an impressive 15 litre tank available when cleaning in wet mode, which is really handy when cleaning a flooded surface. Even in dry vacuum mode the capacity is large at 9 litres, meaning you don't have to change the dust bag very often.
Whilst their capacity and power is the same, one advantage Charles has over George is he is nearly 2kg lighter, which can make quite a big difference when moving around your home. George is rather bulky at 9kg, so if you're looking for a lighter all-in-one vacuum cleaner, Charles would be a better fit at 7.1kg.
On the other side of the coin, one disadvantage of going with Charles over George is that Charles does not have a shampooing facility, so can't be used to shampoo carpets. If the option to shampoo your carpets is something you require, then George would be a better choice than Charles.
Of course it wouldn't be a Henry vacuum cleaner without mentioning appearance. Charles wet and dry is a blue vacuum, different to George who is green. But both come with a smiling face that is synonymous with Numatic.
Finally, Charles has slightly different cleaning tools to George. You can read about Charles' cleaning tools further down below, but it's worth mentioning Charles' extra-long hose that is really handy for stair cleaning. As one of the newer Numatic models, Charles comes built with an extra-long hose that can reach the top of a staircase, something that you can't say for most vacuums from the Henry range. So even though he's fairly bulky, the fact you can leave him at the bottom of the stairs when cleaning a whole staircase makes his weight less of an issue. 
Charles Hoover wattage and power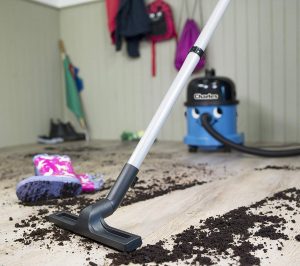 As a wet and dry vacuum cleaner, Charles has a higher wattage than the majority of vacuums within the Henry Hoover range, as he doesn't have to comply with the latest EU laws regarding vacuum wattage. At 1200W, Charles has almost double the power of the traditional Henry Hoover, and more than double the Henry Xtra.
This does mean he is especially powerful and has an ultra-strong suction power, so whether you're cleaning in wet or dry mode you've got a strong machine that won't let you down.
Switching between the two cleaning modes is really easy, there's a standard power button and a dry and wet setting. Just make sure you've selected the right setting before starting your cleaning.
Charles Hoover weight and handling
As a wet and dry vacuum, it's not overly surprising that Charles is a little on the heavy side. The fact he has a huge 15l capacity in wet mode does mean he's rather bulky, and not the easiest vacuum to store away.
However, for a wet and dry vacuum Charles is lighter than many on the market. At 7.1kg he's not light, but is 1.9kg lighter than his family member George, as an example. 
He also has a useful parking bracket which is operated by a foot pedal, which does make it easier to store him away and leave him standing upright. 
Despite his weight, Charles is pretty easy to move around the home, regardless of which cleaning mode you are using. Numatic's clever design means you shouldn't find it a struggle to move him around.
Charles Hoover tools and attachments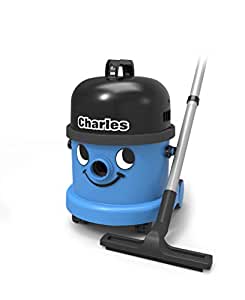 As above, Charles' extra-long hose – which gives a cleaning range of a whopping 26.8m – is a definite plus point when compared to other vacuums in the Numatic range, or other vacuums in general for that matter. Not only is this useful for cleaning stairs, but it means you can clean one floor of a standard-sized house without the need to change plug sockets. He's also great for reaching into some of the more difficult-to-clean places such as ceilings and cars.
Charles comes with other tools that you'd expect to see from a Numatic hoover, including a soft dusting brush floor tool which is great for cleaning the more delicate surfaces such as tables or soft furnishings. The dusting brush helps to prevent damage to those types of surfaces.
Of course Charles also comes complete with a crevice tool, that is great for cleaning those hard-to-reach surfaces. Although due to the size of his hose you may not need to use this attachment as much as you normally would. 
Charles also has a little adapter which enables you to put any of the small tools directly onto the hose end, which is a neat feature and great for when cleaning in small spaces with not a lot of room.
Charles wet and dry vacuum also has two floor nozzles. One is for cleaning wet surfaces, and the main floor head is for cleaning hard floors and carpets. The all-purpose main head nozzle has a slide-on brush that's great for cleaning staircases and furniture.
Like all Numatic vacuum cleaners, Charles uses dust bags when being used in dry vacuum mode. These are ultra-strong HepaFlo bags that won't need to be emptied very often, and you should find four bags in the box when you purchase Charles. Charles also has a dry filter for dry use which has a superb filtration system that catches dirt, debris and allergens, as has become the standard with Numatic vacuum cleaners. Like the dust bags, the filter is easily removable and should last a long time if regularly cleaned.
Charles Hoover pros
An all-in-one vacuum cleaner that's immense at cleaning both both wet and dry surfaces
Very powerful with strong suction power
Huge 15 litre capacity for wet cleaning and large 9 litre capacity for dry cleaning
Lighter than the other all-in-one vacuum in the Henry range, George Hoover
Charles Hoover cons
Can't be used to shampoo carpets like his compatriot George Hoover
Despite being lighter than George Hoover, still a fairly heavy vacuum cleaner and therefore not the easiest to move around the home
Charles Hoover verdict
If you're after a wet dry vacuum, Charles Hoover is definitely a decent option. Excellent at cleaning both wet and dry surfaces and with a large cleaning capacity for both, Charles certainly won't let you down. He's also lighter than many wet and dry vacuums on the market, although due to his size he is rather bulky and not the easiest to store away in your home.
If you want to be able to shampoo your carpets, then you'd be better off opting for George Hoover over Charles. Although Charles is fantastic at cleaning wet surfaces, he doesn't have the shampoo facility that you get with the George.
Stair cleaning is not a problem with Charles, as although he's bulky he has an extra long reach which means you can leave him at the bottom of the stairs and clean a full flight of stairs with ease.
To conclude, Charles is a great option if you're looking for a wet and dry vacuum, unless you need a shampoo facility. He's great at cleaning hard floors and carpets, whether being used in wet or dry mode.