Harry Hoover review
Often referred to as the Henry Pet Hoover or Henry Hoover Pet, Harry Hoover is the best vacuum from the Henry Hoover range for tackling pet hair. Those of us with cats and dogs as pets love them to bits, but they do often leave stubborn pet hair and unpleasant smells around our homes.
That's where Harry Hoover comes into his own. He has all the features of the ultra-reliable Henry, but also has two extra pet-friendly adjustments that make him a dream when cleaning up after pets. Harry has a unique HairoBrush which is purposely designed to pick up pet hair, as well as a MicroFresh filter which helps to eradicate pet odour.
Henry may get a lot of the plaudits, but we think Harry Hoover is your man if you have pets in your home. Read on for our in-depth Harry Hoover review to find out why.
HairoBrush is great at picking up pet hair
Enhanced filter helps remove smelly odours from the home
Large 9 litre capacity
Suitable for both carpets and hard floors
Fairly heavy
Not the best vacuum for cleaning stairs
Harry Hoover – Specifications
| | |
| --- | --- |
| Brand | Numatic |
| Colour | Green / Black |
| Weight | 9 Kg |
| Capacity | 9 litres |
| Power | 620 watts |
| Energy Efficiency Class | A |
Other Henry range reviews you may find useful:
Harry Hoover: Pet Vacuum
Dogs and cats. So many of us have them in our homes and we love them to bits, but they do shed a lot of hair and can leave some bad smells hanging around the place. So for people with pets in their homes, having a reliable pet vacuum is somewhat of a priority.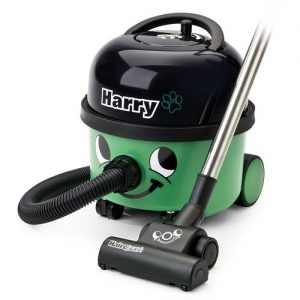 Enter Harry Hoover, a less well-known member of the Henry Hoover family. Harry Hoover has been specifically designed to tackle stubborn pet hair, making him the most suitable vacuum from the Henry Hoover range for pet lovers.
If you don't have pets you may want to check out our Henry Hoover review instead.
Harry is a fairly young member of the Henry family. He was only introduced after the carbon filter was removed from the Henry Xtra, meaning Numatic no longer had a vacuum in their range suitable for pet lovers.
Whilst Harry has many similarities to Henry in terms of his general performance and bag capacity, he comes with two extra features which means he is the vacuum of choice when it comes to pet hair.
Harry's unique HairoBrush has been specifically designed to pick up pet hair, and is a dual purpose brush that can be used seamlessly on both floor and on upholstery. The HairoBrush extension itself is fairly narrow, which means that although it is effective at picking up pet hair, it will take a while to clean a large room when compared to using a standard carpet floor nozzle.
In addition to the HairoBrush, what makes Harry even more desirable for pet lovers is his MicroFresh activated charcoal filter, which really helps to eradicate odours that pets tend to leave.
By combining both the HairoBrush and the charcoal filter, you've got a vacuum that is great at picking up pet hair and also removes those smells you'd rather not have hanging around your home.
Harry Hoover appearance, design and performance
Harry Hoover is green in colour and like all vacuums within the Numatic range, Harry has a smile on his face and a cheerful exterior. As he is a pet vacuum, Harry comes complete with a paw print on his head, as well as next to his name.
Harry has a built-in carry handle on his top and his cord is stored inside, complete with a Numatic cord rewind. The cord is long at 10 meters, so you can clean a large area of your home without having to find another socket outlet, which is a big plus point for this vacuum. Once finished you simply wind the cable up manually.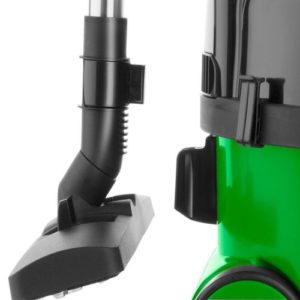 Harry also comes with a two position switch – low for lightweight cleaning and high for standard carpet cleaning. Of course, there's also a red on / off switch on the back of Harry, too. Also on the back of Harry is a parking slot which enables you to store the main carpet and floor nozzle on the machine itself. In addition, Harry comes with a little clip which you can put most of the accessories on, such as the dusting brush. This is another useful component of Harry as it allows you to immediately access some of his useful accessories from the machine itself.
Harry has the same 620w motor as Henry, which gives him a strong suction power and means he's great at picking up dirt and debris. He is great on both carpets and hard floors, and not bad at cleaning upholstery too.
One difference Harry has when compared to Henry is his weight. Harry is actually slightly heavier than Henry, so would probably not be suitable for elderly people or those who struggle carrying heavy items on stairs. In fact generally, Harry is not the easiest vacuum to use on the stairs due to his weight and slightly awkward shape.
On top of the HairoBrush and charcoal filter, Harry has a number of accessories that help to clean all types of surfaces. Apart from cleaning carpets, floors and stairs you can also use Harry all around your home for all your above floor cleaning. The dusting brush can be used on your lampshades, Venetian blinds and other hard to reach places such as the top of your curtain rails. The small nozzle accessory is ideal for cleaning your upholstery, and when cleaning the car or car mats, the slide on brush is your perfect companion. Harry's crevice tool is another handy add-on, helpling to to reach down the sides of chairs or in the corner of rooms, to remove pesky cobwebs and clean those awkward nooks and crannies.
Harry Hoover bags and filter
Harry Hoover is bagged vacuum and has a large nine litre capacity, so he's not a vacuum that will need to be emptied regularly. The nine litre HepaFlo dust bags that Harry uses are very large and extremely strong. They even have a little cover so you can close the opening to the bag when taking it out to dispose of it, so none of the dust can fly out like it can with a bagless vacuum. It's nice and easy to replace a dust bag and as above you won't need to replace them very regularly. You should get four dust bags when you purchase Harry and it's estimated they will last three months each, so it should be around a year before you need to purchase more bags. When it comes to that stage, you can pick up replacement HepaFlo bags cheaply from major retailers.
One of the major differences between Harry and Henry is that Harry uses a better class of filter. Harry has a micro fresh activated charcoal filter and it is designed to remove any odours that can come out of a dust-bag when you're using the cleaner. Especially if you're picking up pet hairs, they can tend to smell after a while so the activated charcoal in this filter prevents that from happening.
Harry Hoover attachments
The standard tool kit supplied with Harry Hoover includes:
2.4 meter length conical hose

Chrome handle

Two Chrome extension wands

Standard carpet and floor nozzle

HairoBrush turbo nozzle

Crevice tool

Soft dusting brush

Upholstery nozzle with detachable brush

Adapter piece to attach small tools directly to the end of the hose
Harry Hoover pros
HairoBrush is great at picking up pet hair
Enhanced filter helps remove smelly odours from the home
Large 9 litre capacity
Suitable for both carpets and hard floors
Harry Hoover cons
Fairly heavy
Not the best vacuum for cleaning stairs
Harry Hoover verdict
If you don't have pet mess to clean up, then it's highly likely there are better vacuums out there than Harry that will suit your needs. However, if you're looking for a reliable pet vacuum that is great at picking up stubborn pet hair and removing nasty odours, then Harry Hoover could well be your man.
Harry's dual purpose HairoBrush is fantastic at picking up pet hair, and his enhanced charcoal filter really helps to remove nasty pet smells from your home.
Harry is certainly the most suitable vacuum for pet owners from the Numatic range, and is only slightly more expensive than the likes of Henry and Hetty. He's also relatively cheap compared to some other pet vacuums, so you could do a lot worse than using Harry to clean up after your furry friends. Hopefully this Harry Hoover review has highlighted what a useful pet vacuum Harry Hoover is.