George Hoover review
​Unlike the majority of Numatic vacuums which are designed to tackle only dry floors, George Hoover is an all-in-one vacuum cleaner that is adept with both wet and dry surfaces. Not only that, but George also has a shampoo facility, which is great for reviving carpets as well as sofas.
With a large capacity in both wet and dry mode, super-strong suction power and extra-long hose, George is a well-built and versatile machine that can be relied upon when you need him most. He's not the only wet vacuum in the Henry range though, so read on for our in-depth George Hoover review to see how he stacks up.
PROS
Great at cleaning both wet and dry surfaces

Added bonus that George is a carpet cleaner that can shampoo carpets as well as hard surfaces
Extremely strong suction power
Large 9 litre capacity for dry cleaning and huge 15 litre capacity for wet cleaning
CONS
Quite a bulky vacuum, although his wheels make him fairly easy to move around
Better options on the market for cleaning stairs
George Hoover specifications
| Brand | Numatic |
| --- | --- |
| Colour | Green / Black |
| Weight | 14 Kg |
| Capacity | 15 litres |
| Power | 1200 watts |
Other Henry range reviews you may find useful:
George Hoover appearance and design
In terms of appearance, Numatic George is similar to the rest of the Henry family with his smiling face and bright eyes. He is green in colour and therefore is most similar to Harry the Hoover from the Henry range.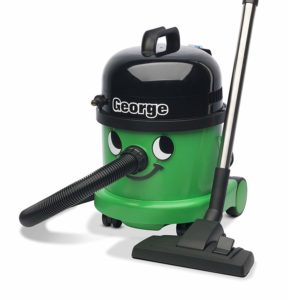 George is comfortably the most powerful vacuum cleaner from Numatic's Henry Hoover range, and with great power comes great suction. George is more powerful than the rest of the Henry family because he needs the extra power when being used in wet cleaning mode, to allow him to clean effectively.
As well as a power button for switching George on, there is also a wet and dry switch, which makes it nice and easy to switch between cleaning modes. George comes with two hoses, one for dry vacuuming and one for wet. George is easy to use and has an excellent capacity for both wet and dry vacuuming. When being used for regular dry vacuuming, George has a nine litre capacity which is comparable with other Numatic vacuums from the Henry Hoover family. When being used for wet vacuuming, George has a huge 15 litre tank capacity that can comfortably tackle the dirtiest of floors.
Whilst George gets high marks for capacity, it does mean that he is slightly on the heavy side. Like all Numatic vacuums George is quite bulky, which does mean he isn't the easiest hoover to move around. That said, his wheels help to take some of the weight when moving him and the attachments are easy to attach and use, so the overall handling of George shouldn't be a problem for the average person.
George the Hoover: Wet Vacuuming
As a wet vacuum cleaner, Numatic George has many great features and is versatile across hard floors, carpets, furniture and upholstery. Great at sucking up spills and spillages but also a great cleaner in general, George's powerful suction makes cleaning wet surfaces a quick and easy job.
On hard floors George comes into his own. Unlike many mop and steam cleaners which don't separate clean and dirty water, George has a clean water tank complete with detergent but then sucks up the water from the floor into a dirty water tank, leaving the floors clean and also dry. He doesn't push dirt around the floor like some cleaners do, instead he removes it and uses clean water and detergent to clean.
George is great on carpets too. Just like with hard floors, you just fill the clean water tank with fresh water and detergent, and allow George to do this thing. With a large capacity and long cable, you're able to clean large rooms without unplugging. But what really helps George stand out on carpets is his shampoo facility. George is able to revive old and dull carpets and give them a real facelift. You don't have to worry about George soaking your carpets either, he's been designed to distribute his clean evenly across carpets, which prevents them from becoming too wet. You can also use shampoo on hard surfaces thanks to the hard floor head, which has two sides that work together to produce a fantastic clean.
George is not only limited to hard floors and carpets. You can use George to valet your car, clean and remove stains from sofas, and even unblock sinks. He really is a fantastic asset as a wet vacuum.
George's tank for wet vacuuming is easy to remove, as is slotting it back into the machine after you've emptied it. There is a really useful flotation ball in the pump which ensures suction is cut off if the tank becomes too full.. There is also a mesh filter which does a great job of preventing unwanted dirt from entering the tank.
George the Hoover: Dry Vacuuming
Like all Numatic vacuum cleaners, George is very efficient at cleaning dry surfaces. His strong suction power means picking up dirt and debris from either carpets or hard floors is not a problem.
George's hose is slightly longer than the majority of other Numatic vacuums, which means he should be able to reach the top of an average flight of stairs. As he isn't the lightest machine to move around, being able to leave George at the bottom of the stairs whilst you clean is a helpful bonus.
George comes with a nozzle that is fantastic at cleaning upholstery. It's a real heavy-duty grade nozzle that picks up dirt with ease from all types of upholstery. And with other accessories that come with the George, you've got a vacuum cleaner that can clean furniture, carpets and hard floors around your home.
One area that is a real strength of George's is car cleaning. He is the perfect car valeting vacuum. The nozzle that comes with George is not only ideal for cleaning your upholstery and stairs, but it's also great with car mats and car seats. The well-made robust nozzle, combined with the extra-long hose, means you should be able to get all around the car without having to move George around too much.
Henry Wash vs George
In recent years Numatic has started to introduce Henry counterparts for much of the Henry range. Other than Charles Hoover who has many similarities to George, the closest match to George is Henry Wash. However, there is a significant difference between George and Henry Wash. Whilst George is both a wet and dry vacuum, Henry Wash is a dedicated wet vacuum only.
Henry Wash has all the wet features that George Hoover has, including a wet filter, wet tools in the form of a carpet, upholstery and hard floor extraction tools, and a shampoo facility that is controlled by a trigger.
But Henry Wash has no dry facility, he is effectively a carpet shampoo vacuum only. That does mean he's cheaper than George, because he doesn't offer as much versatility as a vacuum.
George Hoover bags and filter
The bags themselves that come with George vacuum are the Numatic HepaFlo bags. You should get four bags with George and they are large and built to last, so you shouldn't need to replace them very often. As mentioned above, George has a large 9 litre dust bag capacity when cleaning in dry mode, and it takes a lot of vacuuming to fill bags of that size.
When using George in wet mode, there's a clean water tank – which has a huge 15 litre capacity – and a mesh filter. Both the tank and filter are removable, meaning removing dirty water after a stint of wet cleaning isn't a difficult job. The water tank is easy to fill up too, thanks to a handle that means you can carry it to your sink with ease and fill it with clean water.
George uses a HEPAFlo filtration system, which is easy to access and change and fits nicely inside of George, helping to capture dust and other allergens from escaping into the air.
What comes in the George Hoover box?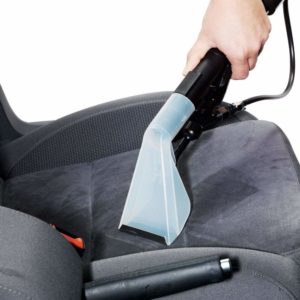 As well as the standard Numatic attachments which come with each of their machines – such as the crevice tool and dusting brush – George comes with a range of additional accessories which help him perform his best, no matter the job.
There is an all-purpose nozzle which comes with a removable brush, designed to make things easier when cleaning furniture and stairs. There is also a hose adapter for smaller and more confined surfaces.
For wet vacuuming there is the fishtail extraction nozzle which is designed to be used on carpet. This tool is great for shampooing and scrubbing dirt out of carpets and does a great job at removing tough stains.
The upholstery nozzle is a powerful accessory that will go to town on the interior of a car as well as furniture. As mentioned earlier, this tool would be perfect for car valeting. There is also the hard floor head which is the tool to use on hard surfaces.
For a full list of what comes in the George vacuum box, please see below:
Numatic George vacuum

3 piece stainless steel tubes

Nuflex bayonet hose

Cleantec extraction hose

Combination floor nozzle

Fishtail extraction nozzle

Dual scrub/wet pick up nozzle

Upholstery extraction nozzle

Double taper hose/tool adapter

Crevice tool

Soft dusting brush

Upholstery nozzle

Slide on brush for upholstery nozzle

Cleantec trigger valve & spray tube

Tritex filter

Four Hepa-Flo dust bags

Numatic shampoo for carpet cleaning
George Hoover pros
Great at cleaning both wet and dry surfaces

Added bonus that George is a carpet cleaner that can shampoo carpets as well as hard surfaces
Extremely strong suction power
Large 9 litre capacity for dry cleaning and huge 15 litre capacity for wet cleaning
George Hoover cons
Quite a bulky vacuum, although his wheels make him fairly easy to move around
Better options on the market for cleaning stairs
George Hoover verdict
If you're looking for a powerful vacuum cleaner that can be relied upon to clean both wet and dry surfaces, you'd be hard pressed to find a better solution than George the Hoover. George is a great all-in-one vacuum that is more than adequate at cleaning both dry and wet surfaces. Due to his extra-long hose and useful adapters, George is great for cleaning all types of surfaces, including carpets, hard floors, upholstery, stairs and the car. He also is the only vacuum in the Numatic range that has a shampoo facility, so if you want a carpet cleaner as well as a hard floor wet vacuum cleaner, George is a great option.
George has a huge capacity and it's easy to switch between dry and wet modes. Due to his capacity, it has to be said that George is fairly heavy, but thanks to his wheels he takes some of the weight when you're moving him around. The larger than normal hose means you move him less than you would a traditional vacuum cleaner.
If you don't need a wet vacuum cleaner then there are probably better options than George, but if you're looking for a wet vacuum cleaner or all-in-one then George should be at the top of your list.