Dyson V7 Review
If you're in the market for a new cordless vacuum cleaner then you'd be hard pressed in finding a better brand than Dyson. But even Dyson has a range of cordless vacuum cleaners, so how do you know which one is right for you?
The Dyson V7 Cordless is not the latest cordless Dyson offering to the market, having been released in 2017, but it is still a great option for anyone who might be looking to upgrade their vacuum cleaner on more of a budget. Powerful, lightweight and versatile, the Dyson V7 Cordless is certainly a very capable machine if you're considering investing in a new Dyson.
With three Dyson V7 Cordless models within the range – Absolute, Animal and Motorhead – there are plenty of options if you're interested in picking up a new Dyson V7. Read on for our in-depth Dyson V7 review which covers all three of these models and outlines the differences between them.
Dyson V7 Cordless specifications
Whilst there are differences between the Absolute, Animal and Motorhead models within the Dyson V7 range, the actual Dyson V7 vacuum cleaner is exactly the same in terms of weight, charge time, run time, capacity and suction power. The differences in the models comes down to the attachments, which we'll cover later on in this review.
Looking for the best Dyson vacuum? Check out these other Dyson reviews you may find useful:
How does the v7 stack up to one of the latest cordless vacuums to the market? Check out our Halo Capsule vs Dyson comparison or our Halo Capsule review.
Dyson V7 Cordless run time and charge time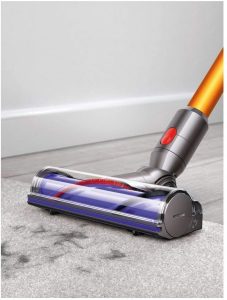 When it comes to cordless vacuum cleaners, one of the most important things to consider is how long the machine takes to charge and how long you have to clean once the vacuum is fully charged. The Dyson V7 takes three and a half hours to be fully charged, although if you have a quick clean to do you don't have to wait until the machine is fully charged until you can use it.
In terms of run time, the Dyson V7 Cordless model offers up to 30 minutes cleaning time after a full charge, which should be plenty of time to whizz round a standard-sized house in one go. That's an upgrade of around 10 minutes extra than the Dyson V6 Cordless, but newer cordless models give you even longer.
The Dyson V7 also has two power modes, the standard Powerful mode and the ultra-powerful Max mode. As you've probably guessed, utilising the Max mode means the battery will drain quicker. A lot quicker in fact. If you've got a particularly stubborn cleaning job on your hands and need to use the Max mode, you'll get up to six minutes of cleaning only. For most jobs though, the standard Powerful mode should be fine and you'll get half an hour uninterrupted on this mode, providing the Dyson V7 is fully charged.
Dyson V7 Cordless power and cleaning performance
The Dyson V7 is a powerful piece of machinery, thanks in part to the Dyson V7 motor which has been engineered for powerful suction on both carpets and hard floors. This model has 2 Tier Radial cyclone technology which means the 15 small cyclones create strong centrifugal forces, to capture even more dirt.
The Dyson V7 is excellent at deep cleaning carpets. The powerful direct-drive cleaner head is able to remove ground-in dirt from carpets with ease, and with 75% more brush bar power than the Dyson V6 Cordless, you'll be surprised at the superb suction it shows on any surface.
Not just great on carpets, the Dyson V7 is also great on hard floors too. The soft roller cleaner head is engineered with soft woven nylon and anti-static carbon fiber to give a thorough and gentle clean. 
Dyson V7 Cordless dust bin and capacity
One of the best features with the Dyson V7 Cordless is the ease at which the bin empties. Dyson introduced a new dust bin release tab with the V7, and the hygienic dirt ejection mechanism allows you to release trapped dust and debris in one swift action so you don't need to touch it. It really is mess and fuss free! This is a neat feature as it's much more hygienic and is very simple to use.
In terms of capacity, the Dyson V7 has space for 0.54 litres of dirt and debris. Whilst this isn't huge, the fact the bin is so easy to empty means this doesn't cause a problem. As this is a bagless vacuum cleaner, you don't need to worry about replacing bags or wasting time emptying the bin, it literally takes a couple of seconds.
Dyson V7 Cordless weight and design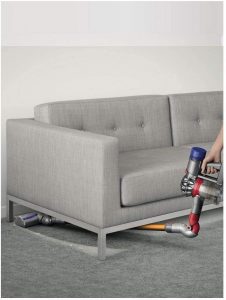 At just 2.3kg, the Dyson V7 Cordless is a lightweight machine that glides effortlessly around the home. This isn't the sort of vacuum you'll need to push hard when moving around, like heavier cordless vacuums or the more traditional cylinder vacuum cleaners.
Designed with ease of use in mind, the Dyson V7 transforms to a handheld vacuum in just one click, which is perfect for cleaning cars, soft furnishings and upholstery. The handheld is small enough to get into those hard to reach places and powerfully pick up any unwanted dirt, and allows you to easily reach up high in one smooth motion. 
The Dyson V7 also comes with a new reach under tool, which twists and locks to reach those more difficult places such as under the sofa or bed. This means there's no need to bend down or leave areas that normally wouldn't get cleaned. The Dyson V7 Cordless helps you to clean all areas of your home or car.
And like with most cordless Dyson vacuums, the Dyson V7 also comes with a handy docking station which allows you to tidily store and recharge your machine.
Dyson V7 Absolute vs Dyson V7 Animal vs Dyson V7 Motorhead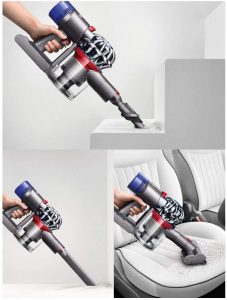 As mentioned earlier in this Dyson V7 review, although the vacuum cleaner itself is the same with the V7 Absolute, V7 Animal and V7 Motorhead models, there are some differences when it comes to both price and the tools you get with each.
The most expensive of the three models is the Dyson V7 Absolute, and that's because this model comes with all the available tools in the Dyson V7 range. The Absolute comes with a whole host of extras including a soft dusting brush which gently removes dust from screens and hard surfaces, a combination tool which offers two tools in one, for simple switching between surfaces, and a crevice tool which is designed for precise cleaning around any edges and narrow gaps. The Dyson V7 Absolute also has a mini motorized tool which is great because the motorized brush bar can tackle hair and ground-in dirt, in the tightest of spaces.
In addition, the V7 Absolute model comes with a soft roller cleaner head that you don't get with either the V7 Animal or V7 Motorhead models. This extra soft roller cleaner head is ideal for cleaning hard floors, and it picks up large debris and fine dust at the same time. 
If you're not bothered by the extra soft roller cleaner head, then you'd be better off going with the cheaper Dyson V7 Animal. The only difference between the V7 Animal and the V7 Absolute is the additional soft roller cleaner head, everything else you get with the V7 Absolute comes with the V7 Animal. If you spend your life surrounded by furry friends, then the Dyson V7 Animal will certainly do a great job at picking up pet hair and preventing allergies, as it's certified asthma and allergy friendly.
The Dyson V7 Motorhead model comes with less attachments than the V7 Absolute and the V7 Animal. As well as the soft roller cleaner head that only comes with the Absolute model, the V7 Motorhead does not come with the soft dusting brush, the mini-motorized tool and perhaps most importantly, the new reach under tool that is a really handy attachment. In our opinion this makes the V7 Motorhead the least favourable option from the Dyson V7 range, although it is approximately £50 cheaper than the Absolute model.
This table below highlights what you get with each Dyson V7 model:
Dyson V7 Cordless pros

Powerful, lightweight and versatile cordless vacuum which transforms to a handheld in one click
75% more brush bar power than the Dyson V6 cordless vacuum for a deeper clean
30 minute run time once fully charged
An excellent range of accessories that come with both the Absolute and Animal models
Hygienic and quick bin emptying
Dyson V7 Cordless cons

Takes three and a half hours to be fully charged
Using in Max mode gives only 6 minutes run time
Battery isn't replaceable so if this goes it could prove problematic
The Dyson V7 Motorhead is missing some of the handy extra tools that come with the other models
Dyson V7 Cordless verdict
If you're after a new cordless vacuum that doesn't cost the earth, then the Dyson V7 is definitely a great option. Excellent at cleaning both carpet, hard floors, soft furnishings and car upholstery, this model transforms into a handheld and back again with one simple click.
With 30 minutes fade free cleaning power, you can be sure of a great cord free cleaning experience every time. With new features such as the dust bin release tab and reach under tool, Dyson has really upped the game with the V7. 
With the Absolute, Animal and Motorhead models, there's certainly plenty of options for you to consider. We recommend either the Absolute or Animal models, as the Motorhead does not come with some of the more useful attachments that really help the V7 to stand out.
To conclude, the Dyson V7 Cordless is a fantastic option if you're looking to invest in a new hoover which doesn't break the bank.