Halo Capsule review
The Halo Capsule is the new kid on the block when it comes to the cordless vacuum market, and with some awards already under its belt, it looks like a cordless vacuum that's worth considering.
Capsule Clean is the company behind the Halo Capsule, branching out on their own after developing vacuum cleaners for other big brands for more than 20 years. They think they've got something special with the Halo Capsule and are taking an innovative approach, and it looks like some well-respected publications agree. The Halo Capsule won the TechAdvisor Appliance of the Year for 2020, and also came runner-up in Which? Magazine's Best Products of 2020.
So is the Halo Capsule a good option or are you better off sticking to a brand you know well when looking for a new cordless vacuum? This Halo Capsule review aims to answer if the Halo Capsule cordless vacuum really is the real deal.
Halo Capsule specifications
Halo Capsule design and weight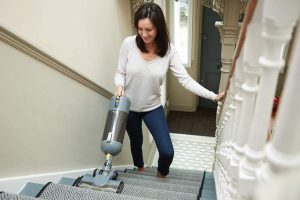 The Halo Capsule is an ultra-light cordless vacuum, weighing just 2.6kg. That's lighter than the most notable cordless vacuums on the market so is a plus point for anybody with mobility issues, or anyone who really values a vacuum that feels very light when you're using it.
The innovative use of premium carbon fibre – more typically used in the likes of aviation and motor sport than in vacuum cleaners – has allowed the Halo Capsule to be so light. The main element of the Halo Capsule's body is an incredibly thin Carbon Fibre shell – just one millimetre in thickness – which also importantly leaves lots of space for dust capacity and a powerful motor.
Halo Capsule run time and charge time
When it comes to cordless vacuums, the time it takes to charge and how much run time it gives you are two of the most important features. The Halo Capsule scores well in terms of both charge time and run time. 
A full charge will take up to three hours, which is quicker than most other cordless vacuums, some of which will need closer to five hours to be fully charged. Of course, you don't have to wait for the Halo Capsule to be fully charged before you use it, but the run time will be reduced if you do.
The maximum run time for the Halo Capsule is a healthy 60 minutes – comparable with the best cordless vacuums on the market – thanks to high-performance Lithium Ion batteries. There's just one cleaning mode with the Halo Capsule, so unlike some other cordless vacuums you can't drain the battery quicker by switching between cleaning modes.
How does the Halo Capsule compare to the leading cordless vacuums? Check out our Halo Capsule vs Dyson comparison guide to find out.
Halo Capsule capacity and dust pouches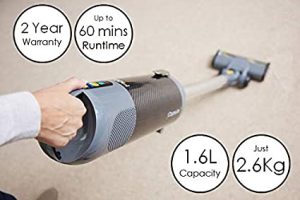 One of main benefits of the Halo Capsule is its massive capacity – some 1.6 litres. Unlike most cordless vacuums that have limited space for capturing dirt, the Halo Capsule has a capacity more in line with a full size upright vacuum and amazingly offers five times more capacity than some cordless vacuums.
Whereas conventional cordless vacuums struggle to have a large capacity because of the technology they've been built with, the Halo Capsule has plenty of extra room for capturing dirt and debris thanks to its ultra-thin carbon fibre shell.
The Halo Capsule comes with paper dust pouches, which work in tandem with high-quality filters to gather and contain all the dirt around your home. The dust pouches expand as they get filled, allowing them to gather a large amount of dust and compete with the capacity of corded vacuums. 
It will depend on how often you hoover your home, but dust pouches will typically last a couple of weeks before they need changing, so you'll need to empty the Halo Capsule a lot less than other cordless vacuums. When you do need to change the dust pouch, the good news is they are made from high-grade compostable paper so they will compost over time, so you can help the environment when you clean.
The Halo Capsule comes with 26 dust pouches, which should last you around a year. When you need more dust pouches, you can order them directly from the Capsule Clean website.
Halo Capsule performance
Not only does the Halo Capsule have high-performance Lithium Ion batteries, but it also has the latest brushless digital motors, which combined together provide an extra powerful cleaning performance. The Halo Capsule has comparable power to full size upright vacuums, which is especially impressive when you consider it's so light-weight.
Whether cleaning hard floors or carpets, the Halo Capsule is very efficient at removing all dirt and dust from around your home. It has significantly more power than most other cordless vacuums on the market, so this is a cordless vacuum that packs a serious punch.
Halo Capsule accessories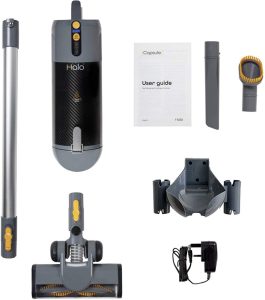 Whilst the Halo Capsule does come with some useful accessories, you tend to get more additional tools with some other cordless vacuums. There's a crevice tool which is very useful when cleaning tight spots or hard to reach spaces, as well as an extension tube and soft dusting brush. You also get the standard full-size powered brush head and a dirt brush tool, which is great when attempting to remove stubborn dirt from your home.
If you're not bothered about having lots of additional tools and adapters, then these accessories are more than adequate for the vast majority of users. In the box you'll also get a wall mount and 26 dust pouches, which as mentioned earlier should be enough for your first year's use.
Halo Capsule price
Another plus point of the Halo Capsule is the price. Considering it's lighter than other cordless vacuums, often more powerful and quicker to charge, you'd think it would cost a lot more than it does. At the time of writing you can get the Halo Capsule for £249.99, which is half the price of some of the most popular cordless vacuums on the market.
That price is 30% cheaper than the standard price of £356.96, but even the standard price looks very good value for money. You can also pay for the Halo Capsule in three interest-free instalments if you prefer, rather than paying all in one go.
Capsule Clean – the makers of the Halo Capsule – also offer a 100% money-back guarantee if you're not happy, and the vacuum comes with a two year warranty.
Halo Capsule pros
Ultra-light cordless vacuum
Three hours for a full charge
60 minute run time
Powerful performance on both carpets and hard floors
Huge 1.6 litre capacity
Significantly cheaper than leading cordless vacuum models
Halo Capsule cons
Less accessories than the leading cordless vacuum models
Halo Capsule verdict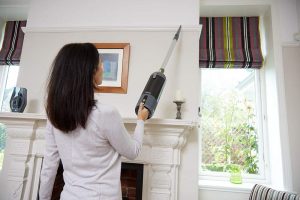 The Halo Capsule ticks an awful lot of boxes when it comes to cordless vacuums. It offers a very decent 60 minute run time and takes three hours to be fully charged, which is quicker than the latest cordless vacuums on the market. It's 1.6l capacity is huge for a cordless vacuum, and somehow it's also ultra-light compared to similar cordless models.
The cost of the Halo Capsule is also very appealing when you look at what the latest cordless vacuums cost, especially when the Halo Capsule comes out on top in the majority of comparisons. This really is a superb cordless vacuum that is already making its mark.
In terms of negatives, although there are additional tools to help when cleaning with the Halo Capsule, other cordless vacuums tend to come with more accessories. And as Capsule Clean and the Halo Capsule are new entrants to the market, they are not household names that you know you can rely on. That being said, there's very little we can find wrong with this vacuum and the awards it's already won highlight just what a clever machine this is. 
Hopefully this Halo Capsule review has helped you identify if this cordless vacuum is the one for you. We certainly feel it's a star in the making.