Dyson V11 review
Released in 2019, the Dyson V11 is Dyson's latest cordless vacuum cleaner and possibly the best Dyson vacuum cleaner that's ever been made. The Dyson V11 Cordless is a brilliant choice for anyone looking for a vacuum with unbeatable cleaning power. This smart, lightweight and ultra-powerful model promises to offer the deepest of cleans on any surface.
With three fantastic Dyson V11 models within the range – Animal, Absolute and Torque Drive – there's certainly plenty of options to choose from. Keep reading for our in-depth Dyson V11 review which will cover the three models in more detail and will help you to choose the best one for you.
Dyson V11 specifications
Other Dyson vacuum reviews you may find useful:
How does the v11 stack up to one of the latest cordless vacuums to the market? Check out our Halo Capsule vs Dyson comparison or our Halo Capsule review.
Dyson V11 Cordless: Power and technology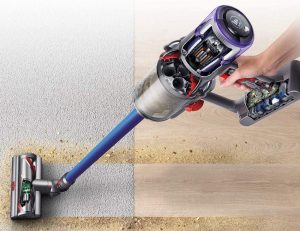 The Dyson V11 is Dyson's most powerful cordless vacuum cleaner, and promises to deep clean your home like no other. With three power modes, this cordless vacuum is so strong it actually beats many corded vacuums when it comes to suction power. The Dyson Hyperdymium motor within the V11 spins at up to 125,000 rpm to generate more suction power than most corded vacuums and give you the most impressive cleaning power.
At 185 AW suction power, the Dyson V11 has around 20% more power than the Dyson Cyclone V10, so if you want power you'll struggle to beat the V11's output. The V11 cleans impressively both up high and down low and is suitable for any surface, including carpets and rugs, hard floors, laminate flooring, upholstery and stairs.
With patented cyclones creating forces of 79,000g to fling dust into the bin without clogging the filter, there's also no annoying loss of suction when you're in the middle of cleaning with the Dyson V11.
The Torque Drive and Absolute models also come with dynamic load sensor technology, where the vacuum does the thinking for you. The cleaner head automatically chooses the suction to suit different floor types so you can clean carpets and hard floors with ease.
Dyson V11 Cordless design and new LCD screen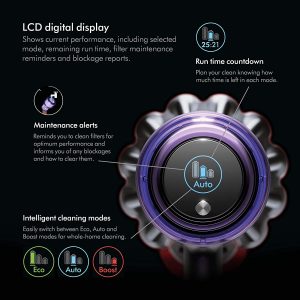 The V11 is Dyson's most intelligent cord-free vacuum, with a new LCD screen display that shows the remaining runtime and which power mode you're using, so you always know how much cleaning time you have left before needing to charge. It also gives you all the information you need on your vacuum, including filter maintenance reminders and blockage reports so you can keep your machine in tip top condition.
Like the Dyson Cyclone V10, the Dyson V11 quickly transforms to a handheld and back again, in one simple click. Plus you can still choose from three different cleaning modes to find the right balance of both power and runtime to suit your needs. 
It's worth noting that the V11 is slightly heavier than the V10 model at just under 3kg, but as is normal with Dyson cordless vacuums it still feels very lightweight and moves easily round your home.
Dyson V11 run time and charge time
Whilst the Dyson V11 is the most powerful cordless vacuum in Dyson's range and comes with a neat LCD screen display, it's run time of 60 minutes is actually no better than the Dyson V10. 60 minutes should be plenty of time to clean a whole house from top to bottom, and although the V11 has much longer run times than the V8, V7 and V6 models, it offers no improvement on the Cyclone V10. 
It's worth noting as well that whilst you'll get 60 minutes of cleaning time when using the standard setting, there's two other, more powerful modes that will drain the battery more quickly when used. However, you'll get 12 minutes of cleaning time in boost mode, which is an improvement of four minutes on the Dyson V10.
It takes four and a half hours for the Dyson V11 to be fully charged, which is an hour longer than it takes for the V10 to be fully charged. However, when you consider the extra power you get with the V11, this feels like a fair trade.
Dyson V11 bin and filter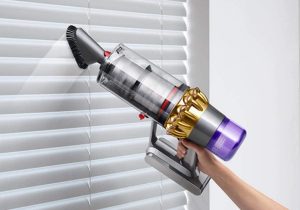 The Dyson V11 Cordless has a large 0.76L capacity which means that you won't have to stop and empty the bin too often. When you do need to empty, it's very easy to do so and the 'point and shoot' system makes emptying dirt quick, hygienic and fuss free. However, it's worth pointing out that the Dyson V10 has the same 0.76L capacity, so the V11 has not got a bigger capacity than the V10.
The Dyson V11 has an excellent sealed filtration system. This allows you to capture 99.97% of small particles including fine dust, pet hair and allergens. The unbeatable Dyson technology also expels cleaner air back into your home so you can rest easy that your home will always be clean and safe.
The Dyson V11 Cordless is certified asthma and allergy friendly, so allergy sufferers can rest assured that they are in good hands if they choose this vacuum cleaner. The HEPA filter impressively traps small particles and pet dander, making it excellent for anyone who finds their current vacuum just isn't doing the job. The filter is also washable too so you can wash this regularly to help maintain suction and keep you vacuum cleaner super clean every time. 
Differences between the Dyson V11 Absolute, Torque Drive and Animal models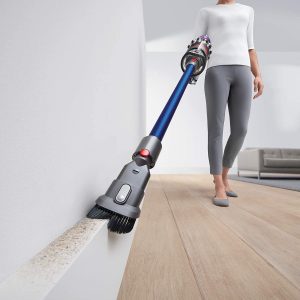 There are three modes to choose from in the Dyson V11 range, the Absolute, the Animal and the Torque Drive. As is normal when it comes to Dyson models from the same range, the differences between the models comes down to the attachments. The actual vacuum cleaner is exactly the same in terms of how long it will take to charge, how long it will run for and how it is designed, regardless of which model you choose.
All Dyson V11 models come with a mini motorised tool which tackles hair and ground-in dirt in tight spaces, a combination tool that gives you two tools in one, for simple switching between surfaces, and a crevice tool which is designed for precise cleaning around edges and narrow gaps. In addition, you'll get a soft dusting brush which is great for dusting screens and small surfaces, and a wand storage clip and as well as a handy docking station for easy storage when your vacuum is not in use.
The Dyson V11 Absolute is the most expensive option, and that's because it comes with the most accessories. A unique feature of the Dyson V11 Absolute – which you don't get with either the V11 Animal or the V11 Torque Drive – is the extra soft roller cleaner head for expert hard floor cleaning. The soft woven nylon is gentle on delicate hard floors but tough on dirt. This makes it ideal for kitchens as it picks up large crumbs and fine dust all at once. In addition, with the V11 Absolute you also get the torque drive motorhead, which does the thinking for you. The Dynamic Load Sensor technology in the cleaner head automatically chooses the suction to suit different floor types so you can switch between soft and hard floors without having to think.
The Dyson V11 Torque Drive is the second most expensive option from the V11 range. With Torque Drive in its name, it's no surprise that this model also comes with the torque drive attachment that you get with the V11 Absolute. However, this model doesn't come with the soft roller cleaner head that the Absolute model offers.
The Dyson V11 Animal model is the cheapest option from the V11 range, and that's because it doesn't come with either the soft roller cleaner head or the torque drive floor head. Instead, the V11 Animal comes with a powerful direct-drive cleaner head that removes ground-in dirt – such as pet hair – from carpets. If you have pets but don't need a soft roller head to tackle hard floors, the V11 Animal makes a very good case to be your next cordless vacuum cleaner.
Dyson V11 Cordless: Pros
Dyson's most powerful cordless to date
60 minutes run time with better battery life in boost compared to the Dyson V10
Adjusts its suction power automatically to suit any surface
Digital display screen that shows the remaining runtime 
Large 0.76L bin with super easy emptying
Dyson V11 Cordless: Cons
Charge time is an hour longer than the Dyson V10
As this is the latest Dyson cordless vacuum it doesn't come cheap
Dyson V11 Cordless verdict
It's fair to say that the Dyson V11 Cordless is right up there with the best of the cord-free vacuums in terms of performance, plus it has a number of upgrades when compared to the Dyson Cyclone V10.
The V11 has a more powerful motor, provides a longer battery life in boost mode and has a neat digital display so you always know how much battery life you have. It has the same bin size and standard battery life as the V10, but will take an extra hour to be fully charged.
With three outstanding V11 models to choose from – Animal,  Absolute and Torque Drive – there's plenty of choice in the Dyson V11 range. If you have a pet, then the V11 Animal might be the best bet to shift that stubborn pet hair. However, if you have a higher budget then the V11 Absolute and V11 Torque Drive come with extra floor heads that help to clean even the most stubborn of surfaces.
To summarise, The Dyson V11 is a fantastic option if you're looking to get the maximum performance from a cordless vacuum cleaner, just be prepared you'll have to pay to get it.