Vax OnePWR Blade 4 review
It was 2014 when Vax first started selling cordless vacuum cleaners in the UK, and they've been making improvements ever since to ensure UK households can rely on Vax for high-quality cordless hoovers. Their latest entrant into the cordless vacuum market – the Vax OnePWR Blade 4 – could well be the best Vax hoover ever.
According to Vax, the OnePWR Blade 4 outperforms the UK's top 3 best-selling cordless vacuum cleaners when it comes to cleaning pickup, highlighting that this latest Vax release was worth the wait.
But what else makes the OnePWR Blade 4 stand out and is it worth the money? Read on for our in-depth Vax OnePWR Blade 4 review to see for yourself.
Vax OnePWR Blade 4 Specifications
Other Vax reviews you may find useful:
Vax OnePWR Blade 4 Power and Design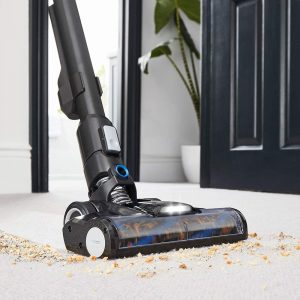 There is nothing more irritating than having to stop vacuuming and plug in somewhere else, but with the Blade 4 being a cordless vacuum that's not a problem you'll have with this hoover. You can move from room-to-room or surface-to-surface with the OnePWR Blade 4 with ease. 
Whilst overall power can be a concern when thinking of buying a cordless vacuum, the OnePWR Blade 4 is designed to deliver as much power as its cordless counterpart. Powered by the revolutionary OnePWR 4.0Ah battery, this is an ultra-powerful hoover that will won't let you down when cleaning even the toughest of hard floors or carpets. 
In terms of design, Vax has really made it a priority to give as many features as possible while maintaining it's lightweight frame. The DustTracker LED headlights are a nifty bonus that help you to see where the dirt is hiding, especially in dark rooms or spaces. 
The OnePWR Blade 4 has a removable bin which is easy to empty and slot back into the machine, and the lithium battery is also easily replaceable, unlike in previous Vax cordless vacuum models.
Vax OnePWR Blade 4 Weight and Performance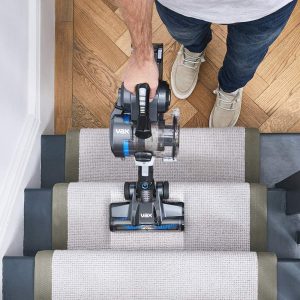 Consumers that are in the market for a cordless vacuum are looking for high performance in a less bulky compact design. This is what the Vax OnePWR Blade 4 cordless vacuum delivers, and it does it in style. Weighing in at a mere 3 kg, the OnePWR Blade 4 weighs almost half as much as a typical corded vacuum. 
Don't let the light weight of this vacuum fool you though. Vax designed it to pack a punch. In fact, it is capable of producing as much suction as a corded vacuum. And if by chance you need even more power than what the regular setting has, you can always switch into boost mode. The tradeoff to using the boost mode is that the battery life is shortened by using it. Think of it like switching your phone from balanced to performance, you'll be able to get things done faster but you'll need to hit the charging station much sooner.
This power is made possible by the use of the best brushless motor Vax has made to date. The new motor is controlled by Vax Core, which is a "32 bit microprocessor that continually monitors power to optimize cleaning efficiency & performance". As the motor is now smart enough to only use as much power as needed, this not only maximizes the OnePWR Blade 4's suction power but also its battery life. The Vax Blade 4 maintains constant high pickup and no loss of suction, even when the bin is getting full and needs emptying. 
The OnePWR Blade 4 is an award-winning vacuum, winning the Which Best Buy for cordless vacuum cleaners in February 2020, as well as receiving approval from the Good Housekeeping Institute. If this wasn't enough to get you to think about giving the OnePWR Blade 4 a try, it also outperforms the UK's top 3 best-selling cordless vacuums. And as Vax says, "That's the cleaning performance of the best-corded uprights in the freedom of a cordless vacuum."
Vax Blade 4 Canister and Filters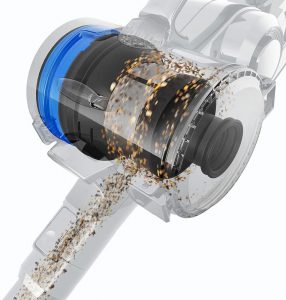 The OnePWR Blade 4 cordless vacuum comes with a 0.6 liter attached canister. And while this is a fairly hefty downsize from the 1.5-liter full-sized canister that comes on the corded vacuums Vax offers, they have designed it for maximum emptying ease.
The bin itself is fully removable making it painless to empty, you can avoid the awkward angles other cordless vacuums require to empty without getting dirt everywhere.
What the dust bin lacks in size the filters more than makeup for in overall usability. The three-stage filtration system is designed so that the filters are cleaned by rinsing and are reusable, saving you money in the long run. You might ask yourself how the OnePWR Blade 4 filtration system compares to the HEPA filters that come in other vacuums, well we did too. 
First, some information on HEPA filters because anyone who suffers from allergies knows just how life-changing a HEPA filter can be. HEPA stands for High-Efficiency Particulate Arrestor. HEPA filters are most common in medical settings where there is a need to remove the maximum amount of particles from the air as possible. A HEPA filter has to be able to capture and remove a minimum of 99.97% of particles at 0.3 microns in size.   
The 3 stage filtration system – called DustVault technology – that Vax has placed in the ONEPWR Blade 4 is capable of capturing up to 99.8% of particles at 0.3 microns in size. This means that even though the filters aren't technically HEPA when they are working at their best they are functionally the same, if not a tiny bit better. 
Vax OnePWR Blade 4 Battery
The Vax OnePWR Blade 4 uses a lithium-ion battery that is replaceable. With a revolutionary new 4.0Ah battery, it takes three hours for the machine to be fully charged, which will give you 45 minutes runtime. This should be plenty of time to clean a whole house without needing to recharge.
You can also use the machine without it being fully charged, if you have a quick bit of cleaning you need to do. And as above, whilst the OnePWR Blade 4 has a boost mode for those more stubborn cleaning jobs, using it will drain the battery. So don't expect a 45 minute runtime if you're constantly using it in boost mode. 
Vax Blade 4 Tools and Attachments
The Vax Blade 4 comes with a number of tools and attachments that help to enhance the cleaning experience. If you need to get in small crevices or want to dust then you can use the crevice tool and the soft bristle dusting brush. There's also a crevice tool caddy that comes in the box which means you'll be able to store the crevice tool on the vacuum itself, rather than having to leave it loose. 
Also in the OnePWR Blade 4 box is a powered floorhead, a OnePWR charger and a useful wall mount, so that you can store your Vax somewhere useful on your wall, rather than it taking up space somewhere else in your home. 
Vax Blade 4: Pros

Ultra-lightweight. The entire vacuum weighs 3 kg, making it the ideal vacuum for those with medical conditions that make lifting heavier objects difficult, such as rheumatoid arthritis or chronic back pain. 
No suction loss. The OnePWR Blade 4 is designed with a state of the art brushless motor that ensures that there is no loss of suction even when the bin is getting full.
Crevice tool makes cleaning in cars and other hard to reach areas very easy.
Lithium-ion battery. Making it possible to fast charge from completely dead to fully charged in only 3 hours.
Removable battery pack. The OnePWR Blade 4 comes with one removable battery, with the option to purchase another you can always make sure that you have the battery life needed to complete the job you face.
Rinseable filters. While these are not HEPA filters, the OnePWR Blade 4 has three stages of filtration that will capture particles as small as 0.3 microns, removing as many particles as its HEPA certified counterparts with the added bonus of being able to clean these.
LED headlight. The LEDs mounted on the front of the vacuum head make it easy to see where you have been and what still needs to be cleaned.

Vax Blade 4: Cons
0.6-liter canister. This is the main drawback of any compact cordless vacuum. The canister is a third the size of Vax's full-sized counterparts. And while the canister is easy to empty the need to do so on a regular basis could become bothersome.
Run time. This is designed to run 45 minutes between charges, which should be more than sufficient to vacuum a house or car. If the battery was not fully charged then you could run the risk of running out of battery before you were ready. As a side note if the battery does require charging but you only need a short period of use you can charge for less than the recommended three hours.
Vax OnePWR Blade 4: Verdict
The Vax OnePWR Blade 4 cordless vacuum is certainly a strong candidate if you're looking to purchase a new cordless vacuum. Vax has truly made a cordless vacuum that can deliver as much power and usability as a corded unit with minimal tradeoffs. 
The Blade 4 is lightweight and compact but still packs a real punch when it comes to performance, thanks in part to its revolutionary filtration system and purpose-built lithium-ion battery. There's LED headlights to help you spot those hidden bits of dirt, and a crevice tool and soft dusting brush when you're cleaning smaller spaces.
Like many cordless vacuums the negatives with this machine are its run time and bin size, although 45 minutes should be enough to clean even the largest of homes and the bin is really easy to empty and put back in place.
Vax has certainly built a vacuum to rival the main players in the cordless hoover market. The OnePWR Blade 4 is already making waves and seems certain to prove popular in households across the UK.