Vax Mach Air Vacuum review
With over 40 years' experience and as a leading enterprise in floor care, Vax has been driven by listening to consumers to make cleaning quicker, easier and more effortless. With this in mind, they introduced the Vax Mach Air, a lightweight upright vacuum cleaner that despite its small frame goes heavy on useful features.
With a powerful suction power, a large capacity and a range of useful tools, this is a really efficient upright vacuum cleaner, and when you consider its price it's certainly value for money. Whether you are looking to replace an old vacuum cleaner or you're buying your first one, the Vax Mach Air won't disappoint. Read on for our in-depth Vax Mach Air review to see how this cleaning machine can serve your floor care needs, or see our best Vax vacuums resource for more Vax options.
Lightweight and compact design

Two-in-one tool attachment (dusting brush and crevice tool)

Powerful multi-cyclonic technology with a class A cleaning performance rating

Detachable and adjustable handle

HEPA certified device

Good value for money
The 7m cord is shorter than most models
Vax Mach Air Specifications
| | |
| --- | --- |
| Brand | Vax |
| Model | UCA1GEV1 |
| Colour | Purple |
| Weight | 4.9 Kg |
| Capacity | 1.5 litres |
| Power / Wattage | 820 watts |
| Cord | 7m |
Other Vax reviews you may find useful:
Vax Mach Air: Power
The Vax Mach Air vacuum has an input power of 820w. To be able to put this in a clearer perspective, the wattage of older, powerful vacuum cleaners were from 1600 watts or more. This means Vax Mach Air's motor uses around half the energy than some of the older vacuums on the market, therefore lowering your energy bill while helping to protect the environment. This likewise complies with the European Commission's ban on vacuum cleaners with wattage that exceeds 900w.
However, this does not mean less suction power. Due to the Mach Air's use of multi-cyclonic technology, it delivers constant powerful pick-up and no loss of suction. Another feature worth mentioning in terms of suction power is the versatility of the Vax Mach Air vacuum. It allows you to adjust the suction depending on the type of floor, whether carpet, hard floors, laminate or tile. For example, for hard floors, you can increase the suction and reduce accordingly for carpets.
It's worth noting that if you have pets there are better options available, such as the Vax Air Max Pet vacuum.
Overall in terms of energy and cleaning performance, the Vax Mach Air has a class A rating.
Vax Mach Air: Noise Level and Emissions
The Vax Mach Air operates with a sound level at 80 decibels, which is an acceptable level by the European Commission standards. You'll be comfortable using it, knowing that you're not disturbing your neighbours.
While vacuuming your home helps reduce allergens found within dust and dirt, it's important to choose the right vacuum cleaner that doesn't emit the dust back into the surrounding air by having the right filter. The Vax Mach Air uses a HEPA filter, which as far as dust re-emission is concerned, is exactly the type of filter you want in your vacuum cleaner.
Vax Mach Air: Weight and Design
Weighing only 4.9kg, the Vax Mach Air really is a lightweight upright vacuum that is much lighter than most other models on the market. As an example, Dyson upright vacuums tend to weigh at least 7kg, so you're getting a vacuum that is very easy to move around the home when you go with the Mach Air. This makes the Mach Air particularly appealing for those who would struggle moving a heavy vacuum around their home, such as the eldery or those with disabilities. Due to its weight, the Vax Mach Air is light enough for easy movement up and down the stairs or across many rooms.
As well as being lightweight, the vacuum itself has a compact design which allows for easy storage, even in small spaces such as small flats. There is also an adjustable handle which further helps in maximising storage space. The handle is flexible since it features eight adjustable height settings, which means it doesn't matter your own height, as you can adjust the handle to accommodate your needs. You can also set the handle to suit high or low pile carpets and hard floors.
Vax Mach Air: Capacity
The Vax Mach Air has a large capacity of 1.5 litres, so you can clean large areas of your home for long periods without needing to constantly empty the vacuum. The fact there is a lot of room is also good for aeration, which helps to prevent the vacuum from getting clogged up.
The Vax Mach Air does not require bags, it is a bagless vacuum which is another bonus as you don't need to worry about buying replacement bags every few months.
Another advantage of having a roomy bin is that you can access the filters and remove them for a quick clean-up. There is a push-button that allows for easy removal of the filters, after which you can tap to remove the dirt or wash them.
Vax Mach Air: Tools and Attachments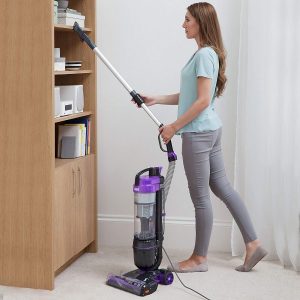 The Vax Mach Air vacuum comes with a range of features and attachments, which make it highly effective in cleaning not only carpets and hard floors, but other surfaces as well.
The 2-in-1 crevice and dusting brush tool is the stand-out attachment for the Vax Mach Air. The crevice tool is really useful for cleaning those difficult corners and crannies in your home, whilst the dusting brush allows you to reach even higher up when dusting the likes of ceilings. Beyond dusting, the brush helps in cleaning other surfaces such as fixtures and blinds. It helps remove dust and prevents smudges or marks before the actual cleaning. The brush is also useful in cleaning surfaces to loosen pollen and allergens for vacuuming.
One negative with the Vax Mach Air is its cord length. At 7m, it is within the average vacuum cord length of between 6 and 10 metres, but it is a little on the small slide. This shouldn't be a huge problem but does mean you won't be able to stretch the vacuum as far without moving it, such as when cleaning areas like staircases. However, as the Mach Air is very light this helps compensate for the short cord length.
The hose attachment for the Max Air is 1.3m long, which is about average when compared to other models. The hose is more than suitable for hard-to-reach areas such as under the sofa, beds and between car seats.
As mentioned above, another good feature is the washable antibacterial HEPA filter. The Mach Air is a HEPA-certified device and the filter traps harmful allergens or dust mites, as well as acting as an air purifier. The HEPA filter also helps to eliminate unpleasant odours from floors and carpets.
Vax Mach Air: Pros
Lightweight and compact design

Two-in-one tool attachment (dusting brush and crevice tool)

Powerful multi-cyclonic technology with a class A cleaning performance rating

Detachable and adjustable handle

HEPA certified device

Good value for money
Vax Mach Air: Cons
The 7m cord is shorter than most models
Vax Mach Air review: Verdict
The Vax Mach Air Upright vacuum is a great cleaning tool for many reasons. It is lightweight and compact, which makes cleaning easier and with less effort.
Although light, thanks to its multi-cyclonic technology it is powerful and versatile enough to clean different types of floors, as well as other surfaces such as crevices, fixtures and blinds.
A downside is the power cord which some consumers find a bit short, but this is a small inconvenience compared to the great features this Vax model has.
Overall, it is an impressive and versatile piece of cleaning equipment that has all the bells and whistles to make Vax Mach Air worth the money spent. When you consider the price which is approximately £80, we think you'd be hard pressed to get better value for money when choosing an upright vacuum cleaner.