Vax Air Max Pet review
When you have pets in your home, it can be hard to find a reliable vacuum that will actually pick up all the hair and fur. Your basic vacuum can pull up a little bit, but tends to leave a lot behind. And don't even get us started on how quickly the pet hair can get clogged up inside the machine.
Enter the Vax Air Max Pet, a very popular vacuum amongst pet owners. The Air Max Pet comes with some attractive features and a few interesting attachments that help it to stand out as a solid pet vacuum.
We certainly love our animals. Pet fur can be tough to get a handle on, especially if your animal sheds a lot. Your carpet can be hiding more hair than you would like. And that same hair can be difficult to sweep off of hardwood surfaces. And this is all on top of keeping the rest of your house looking nice.
But who says that having pets in your home means that you can't keep your carpet looking nice? Well, Vax believes that with the Air Max Pet they have come up with a solution for that.
Read on for our in-depth Vax Air Max Pet review so you can understand if this pet vacuum would suit your needs, or see our best Vax vacuums resource for more Vax options.
Strong filter that collects most debris and allergens

Powerful pulling ability

Detachable tools to clean difficult areas

No bags that require changing

Lightweight and easy to carry

Adjustable options to match flooring styles

Quiet movement
Possibility of pet hair getting stuck in the hoses

Possibility of spillage when changing the debris container
Vax Air Max Pet Specifications
| | |
| --- | --- |
| Brand | Vax |
| Model | CVHUV013 |
| Weight | 5.4 Kg |
| Capacity | 1.6 litres |
| Power / Wattage | 850 watts |
| Cord | 6m |
| Hose Length | 1.5m |
Other Vax reviews you may find useful:
Vax Air Max Pet Design and Weight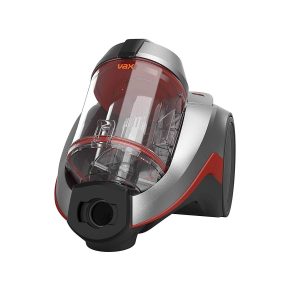 Unlike traditional Vax vacuums like the Vax Mach Air, the Vax Air Max Pet is not an upright machine. The actual vacuum itself is really quite small and compact. It's only about the size of a small backpack, and sits close to the floor. Instead of pulling up dirt from the base, it relies on the hose and other extensions for cleaning.
At only 5.4kg, this vacuum is lightweight. You only have to push the hose extension, rather than swinging a large machine as you vacuum. This feature makes the Air Max Pet ideal for someone who cannot lift heavy objects or have difficulty pushing a heavier vacuum repetitively.
The Vax Air Max Pet is also easy to store. This would be great for small flats and spaces, since you wouldn't have the bulk of a typical vacuum to make room for. The hose is longer at 1.5m, but it's thin shape also makes it easy to tuck away.
The angle of the handle and hose seem well planned. When you're carrying the base, the hose loops comfortably around your shoulder area as you walk. While this may seem like a small feature, it's much better than lugging around a clunky machine with dangling cords and hoses.
As for its internal design, Vax describes its cleaning abilities as cyclonic. The vacuum's air spins like a tornado to separate the dust and dirt from the air. It directs the airflow for more power as it pulls up the debris from your surfaces.
One other unique feature of its design is that its heads are adjusted to fit the different floor types and heights around your home. Vax obviously put thought into cleaning your entire home, rather than just one room or a few rugs. While it can be frustrating having to stop and think about which setting to use, this feature can help you in the long run. Using a setting designed for your flooring can help you keep wood floors scratch-free and extend the life of your carpet.
Vax Air Max Pet Performance and Versatility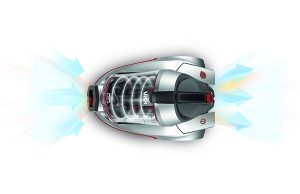 Despite its compact size and lightweight frame, the Air Max Pet certainly packs a punch. It has 850W of power which is about average for your typical household vacuum. But that power, combined with its cycling ability gives it a bit of an edge. The Air Max Pet's direct airpath technology provides an optimised air flow that gives improved performance and powerful pickup on both carpets and hard floors.
Because of the circular airflow it produces, the Air Max Pet has faster speed and a more forceful pulling ability. This means it's up to the task of getting rid of all that pet hair. You can rest easy, knowing that your home is clean and well-cared for.
And speaking of our animals, Vax has thought of them too. Many pets, especially smaller ones, are afraid of the vacuum. Once you turn it on, the intense sound has them running somewhere to hide. Some are frightened of even the sight of the vacuum, unsure of when it will turn on. But the Air Max Pet runs so quietly that your pets won't be bothered.
One of the best features of the Air Max Pet is it's adjustable flooring ability. It is certainly frustrating to have to use multiple machines for the different surfaces in your home. But the Air Max Pet can switch easily from hardwood to carpet. You can carry it throughout your home, never worrying about where you're using it.
For spots you can't reach with the vacuum base, there are some fantastic accessories to help you keep your whole house spotless.
Vax Air Max Pet Filter and Accessories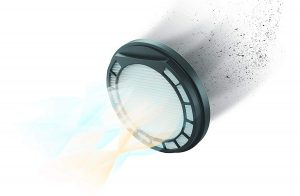 According to Vax, the filter design is able to catch a lot of the irritants in the air that aggravate allergies, especially for pet owners. The Air Max Pet includes a HEPA 12 filter. HEPA (or High Efficiency Particulate Air) filters have high standards for their ability to trap particles in the air. So having one of these in their vacuum definitely keeps Vax at a higher standard. According to the company, it's designed for the filter to trap 99.98% of the allergens you pick up as you vacuum.
Instead of a bag to hold all of the debris you pick up, the Air Max Pet uses a removable container. This makes emptying your container nice and easy, saving you time and money from purchasing additional bags. The container is made of a clear material, so you can know right away when your bin is full. It also helps to keep you informed about the type of debris you're picking up.
However, using a container instead of a bag does have its disadvantages. You have to be careful when emptying your debris, careful not to spill its contents or else you'll end up having to vacuum all over again. Whilst it's possible that large amounts of pet hair could become clogged in the hose, the suction ability is so strong this is unlikely to be a problem.
Along with the actual vacuum itself, the Air Max Pet comes with the 3-in-1 tool, a combination floor head, a telescopic extension tube, and the widely acclaimed Turbo Tool. Of course, there is also an instruction manual to help you get the most out of your new machine.
The telescopic extension tube is an impressive attachment, with the slight curve of the extension tube making it easier to get those hard-to-reach spaces.
The Turbo Tool is a specifically cool feature. You will probably have several surfaces where using the full vacuum and hose might be inconvenient. This is where the turbo tool comes in. It can still use maximum sucking power to get rid of pet hair and dust from those other places, like a machine-operated duster. You'll find that the Turbo Tool works especially well for homes with pets, carpeted stairs, and upholstery.
Vax Air Max Pet: Pros
Strong filter that collects most debris and allergens

Powerful pulling ability

Detachable tools to clean difficult areas

No bags that require changing

Lightweight and easy to carry

Adjustable options to match flooring styles

Quiet movement
Vax Air Max Pet: Cons
Possibility of pet hair getting stuck in the hoses

Possibility of spillage when changing the debris container
Vax Air Max Pet Verdict
Overall, the Vax Air Max Pet is a very capable pet vacuum, with its powerful suction power meaning it's great at picking up stubborn pet hair and dirt. The cyclone technology seems to make a definite difference in how the vacuum performs, whether on carpets or hard floors.
The fact it's a lightweight model makes it stand out vs bulkier vacuums, too. It's so light and compact it's very easy to move around the home or carry up a flight of stairs.
Being a quiet vacuum is also great for the pets in your life, they won't be scared by the Air Max Pet like other, noisier vacuums.
If you've got pets in your home then you could do a lot worse than picking up the Vax Air Max Pet. This is a pet vacuum that won't let you down.