Vax OnePWR Blade 3 review
UK manufacturer Vax first started selling cordless vacuum cleaners in 2014, and in the years since they have grown to be a market leader, offering some of the best cordless vacuums to help you keep your home sparkling clean. One of their latest offerings is the Vax OnePWR Blade 3, which definitely gives other market leading brands and models a run for their money.
Vax assures its loyal customers that the new-to-market OnePWR Blade 3 offers both the cleaning performance of the UK's best-selling corded uprights, plus up to twice the boost mode runtime of the best-selling cordless vacuum.
So what else does the Vax OnePWR Blade 3 have to offer, and is it worth you parting with your hard earned cash?  The Blade 3 was released at the same time as the Vax Blade 4, so how do the two models compare? Keep reading for our in-depth Vax OnePWR Blade 3 review to help you decide if this cordless vacuum could be the one for you.
Vax OnePWR Blade 3 Specifications
Other Vax hoover reviews you may find useful:
Vax OnePWR Blade 3 Power and Design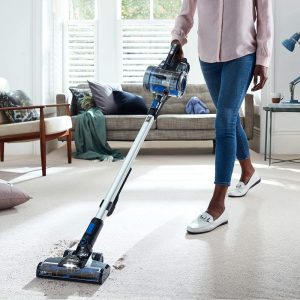 If you've ever had the misfortune of being tied down by a traditional corded vacuum cleaner, then you'll know how amazing it feels to have the freedom that an upright cordless model gives you. The OnePWR Blade 3 is no different and offers users a fantastic experience when cleaning any space with no more awkward manoeuvring or unnecessary heavy lifting.
Powered by a Lithium-Ion ONEPWR battery system, this balanced, lightweight hoover offers powerful suction when cleaning even the dirtiest of hard floors, carpets and upholstery. 
With the Blade 3, Vax has produced a cordless vacuum cleaner with a range of features, whilst maintaining a lightweight frame and sleek, smart design. The Dust Tracker LED headlights are a particular highlight, making it much easier to spot areas that need attention that might be missed by a standard vacuum cleaner. The removable bin is another win for this machine, making emptying the bin nice and easy and frankly, more hygienic.
In terms of power, the main difference between the Vax ONEPWR Blade 3 and the similar Blade 4 is that this model doesn't have a brushless motor, which makes the Blade 3 a touch less powerful and possibly a little nosier too. But this is still a very powerful and capable machine.
Vax OnePWR Blade 3 Weight and Performance
If you're looking for a multi-surface cordless vacuum that still offers an unbeatable performance, then the Vax OnePWR Blade 3 might be the one for you. Coming in at just 3kg, the OnePWR Blade 3 weighs almost half as much as a typical corded vacuum, so means that you can move around your home with real ease using the motorised, adjustable floor head to switch between hardfloor and carpet at just the touch of a button.
Despite its sleek appearance, don't be fooled. The Vax Blade 3 is able to produce just as much suction as a corded vacuum, even having the boost mode feature if you need that extra bit of power for the most stubborn areas. However, it's worth noting that by using boost mode, this does impact the battery life and will give you a shorter cleaning time of approximately 11 minutes. This though is a small price to pay when you consider that the boost can offer three times the usual power and can quickly shift that unwanted and stubborn dirt.
The Vax Blade 3 has three stage filtration technology to ensure that even the smallest particles of dust are captured in the dirt bin. There is also no loss of suction and this model is able to maintain a constant high pick-up performance even when the dirt bin is full.
Plus the specially designed floorhead complements the powerful motor, ensuring optimal pick up on all surfaces including carpets, rugs, stairs, hardwood, laminate and upholstery. The performance of this Vax is certainly hard to beat.
Vax OnePWR Blade 3 Canister and Filters
The OnePWR Blade 3 vacuum comes with a 0.6 liter attached canister. And while this is a bit of a downsize from the 1.5-liter full-sized canister that comes on the Vax corded vacuums, it still offers great pick up power and ease when emptying.
The bin itself – which sits horizontally across the front of the vacuum cleaner – is fully removable, making it easy to empty and clean out. You can unclip it from the front, and the bin lifts out, so you can open the flap beneath and empty the contents directly into the bin. At the other end of the bin, you'll find another flap that covers the washable filter. Once the rinsable filter is out, it can be pulled apart making it easy to wash the unit if required.
As above, the OnePWR Blade 3 also offers improved filtration thanks to a three stage filtration technology which picks up fine dust and hairs with ease on any type of surface. You won't experience any loss of suction or performance even when the dirt bin is full or the battery is low. 
Vax OnePWR Blade 3 Battery
The Vax OnePWR Blade 3 uses a lithium-ion battery that very handily can be replaced, meaning that you'll never be without your trusted vacuum cleaner. The 3.0Ah battery gives you up to 40 minutes runtime, which allows plenty of time to clean your house without needing to stop and recharge.
The full charge time is 2.5 hours but you can also use the machine without it being fully charged if needed. Like its counterpart the OnePWR Blade 4, the Vax Blade 3 also has a boost mode for those stubborn areas, but remember that using it does somewhat reduce the battery time.
Vax OnePWR Blade 3 Tools and Attachments
The Vax Blade 3 comes with a range of useful tools and attachments, including a crevice nozzle and soft dusting brush that makes cleaning tighter spaces a lot easier. With a crevice tool caddy, you can also easily attach the tool to the vacuum cleaner when it's not in use. The powered floorhead that comes in the box is certainly a useful attachment, which you can use when cleaning more stubborn areas.
Of course the Blade 3 also comes with a 3.0Ah battery as well as a OnePWR charger to keep that powerful battery going. There's also a wall mountable docking station for easy storage when your vacuum cleaner is not in use.
What's the difference between the Vax Blade 3 and Vax Blade 4?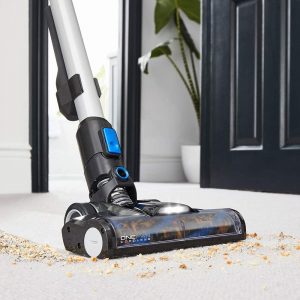 Both released in 2020, the Vax Blade 3 and Vax Blade 4 have definite similarities in terms of power and performance. But what are the main differences between the two models to help you work out which one would suit you best?
Well, the Vax Blade 3 gives you a 40 minute run time rather than the 45 minutes that the Vax Blade 4 can offer you. It's only a small time difference but obviously could mean the difference between being able to finish cleaning your house before having to put your cleaner back on charge.
The Vax Blade 3 battery is also less powerful than the Blade 4 so you may find a small difference in the performance of the two models. However, the OnePWR Blade 3 has a quicker charge time in just 2.5 hours rather than 3 hours for the Blade 4, so when you do need to charge you can do this quickly and more efficiently. 
Another notable difference is that the Blade 3 does not have the same brushless motor that is a selling point for the Blade 4, but the suction is so good in the Blade 3 that we don't see this is a major issue.
Finally, the Vax Blade 3 is approximately £40 cheaper than its counterpart. When every penny counts, it's good to know that there is a cheaper but equally great cordless model available. If you're not bothered by a five minute difference in run time and a slightly less powerful battery, then the Vax Blade 3 may be a better bet than the more expensive Vax Blade 4.
Vax OnePWR Blade 3 Pros
Simple and easy to use, thanks to ultra-lightweight and sleek design
Powerful suction power across all floor types
Fully charged in 2.5 hours
Dust canister is very easy to remove and empty or clean out
Cheaper than it's compatriot the Vax Blade 4
Vax OnePWR Blade 3 Cons
40 minute run time, which is a slightly shorter run time than some other cordless models, including the Vax Blade 4 
Small canister size, although it is very easy to remove and empty
Vax OnePWR Blade 3 Verdict
The Vax OnePWR Blade 3 cordless vacuum is a great choice if you're looking to invest in a new cordless vacuum cleaner. It really does deliver on power and ease of use, and has lots of features and benefits to offer its new owner.
The Blade 3 is lightweight, sleek and stylish but is still able to perform well in comparison to other models on the market, thanks to its powerful battery and unique design. The DustTracker LED headlights, crevice tool and boost button also give it that extra performance when you need it.
Like other cordless vacuums the negatives with this machine are still its battery life and bin capacity, although 40 minutes should be enough to clean most homes and the bin is pretty easy to empty too. Whilst it's run time is slightly shorter than other cordless vacuums, the OnePWR Blade 3 can be fully charged in 2.5 hours, which is quicker than most cordless vacuums.
Vax has made a host of offerings to the cordless vacuum cleaner market and the Vax Blade 3 certainly holds its own. At approximately £40 cheaper than the Vax Blade 4, we think the Blade 3 is a great option for UK households.